If afternoon tea is the most quintessential of English culinary pastimes, then it's absolutely essential to experience it at its best. Let's face it not all afternoon teas were created equal and the more I've sampled the fussier I've become. From the food to the setting, I want it to be exceptional and worth every single calorie and mile traversed. The countryside surely beats the city for atmosphere, and the Cotswolds isn't so much 'Chocolate Box' as 'Cream Tea' pretty, while no venue can surpass the five star Manor House Hotel situated in Castle Combe.
Regarded as one of the loveliest villages in England, harking back to days gone by with its historic bridge, honey-coloured stone cottages and country pubs, the Manor House has been enticing discerning guests ever since Bobbie Allen and her husband converted it into a hotel just after the Second World War. Mrs Allen recounted her experiences in 'From Claridge's to Castle Combe' in 1968, while it's rumoured that Margaret Thatcher later wrote part of her memoir 'The Downing Street Years' in the hotel's Full Glass bar. The Manor House now belongs to the aptly named Exclusive Collection who have preserved the integrity of this country house hotel with serious panache, charming service and informal elegance.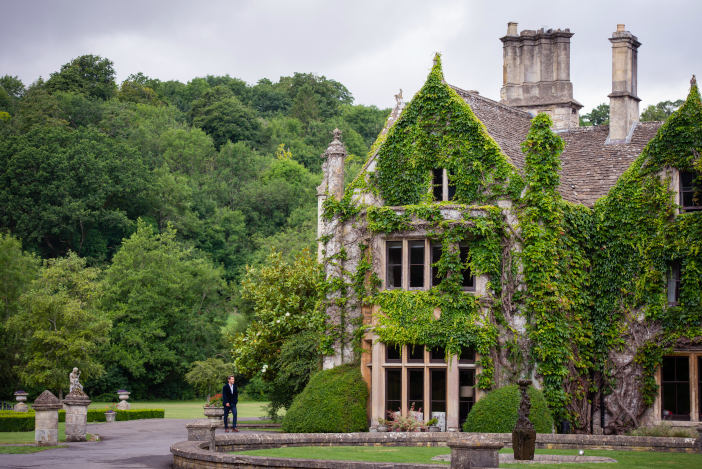 Arriving on a frosty yet bright January day, despite the freezing temperatures or however many times we'd visited before, we made sure to wallow in the enchanting atmosphere of the village and some of the hotel's 365 acres of woodland, parkland and Italian Gardens before heading into the delightfully warm environment of the 17th century Manor House. And I don't just mean the temperature – the staff here are always a joy and showed us to a table in one of the impressive drawing rooms, cosy yet plush, where a roaring log fire warmed us whilst we perused the extensive selection of ethically-sourced Shibui teas from our window seat overlooking the front of the property with its sweeping drive, pristine lawns and fountain.
Shibui, a Japanese word describing something which appears simple but has a complex nature, wasn't a brand of tea I was familiar with, but I was so impressed by my selection that I made a note to order some. The 'Cinnamon' blend of Chinese and Ceylon black teas offered aromatic, rich spicing that seemed to encapsulate the things I love best about winter in one soothing sip, while I had no sooner finished my first cup than the swoon-worthy 3-tier cake stand was placed tantalisingly before us. You know when the waitress takes far too long to explain each element and you just want them to buzz off so you can dive in? Here they understand that they need to talk quickly and be gone.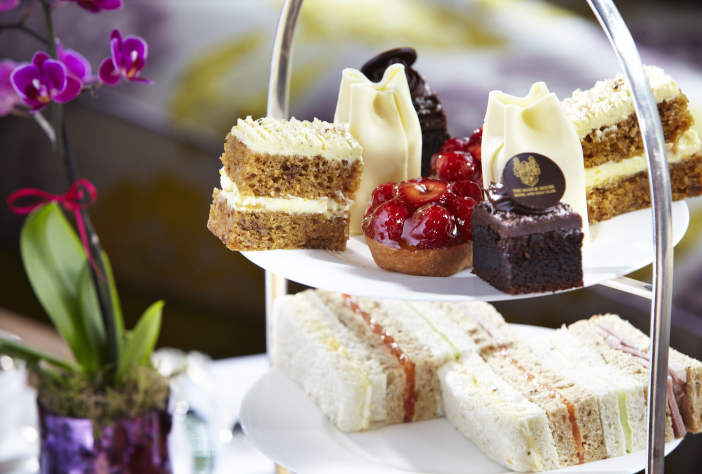 With the Bybrook Restaurant under Executive Chef Rob Potter boasting one Michelin star, The Manor House Hotel has long been a culinary destination, so it's no surprise that the exemplary pastry team led by Luke Woodward are determined to showcase their skills when it comes to patisserie. Everything from the impeccably uniform finger sandwiches (and it's surprising how many afternoon teas I've had in five star hotels where they've been a bit scruffy, or even, dare I say it a bit stale) were just as they should be, with different breads, generous fillings including classics we all know and love like smoked salmon and cream cheese. Better still, we were offered an extra round. The warm Parmesan scones served with wholegrain mustard butter were a nice touch, while the traditional sweet scones at the Manor House are a bite of Cotswold heaven, ramped up with the signature addition of heady vanilla – almost so delicious as to make lashings of West Country clotted cream and strawberry jam unnecessary. Almost. It's worth noting that the Manor House offer the option of a Cream Tea if time isn't on your side or you're dining in The Bybrook and frankly I wouldn't dream of visiting Castle Combe without stopping by teatime treat.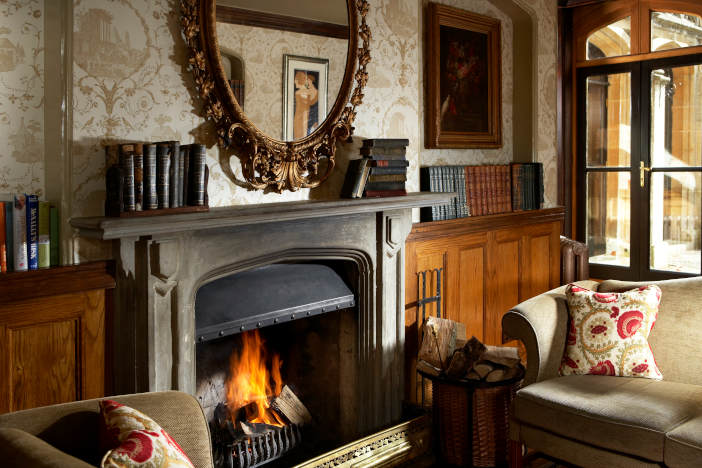 The top tier finale of exquisite delights was a jewel-box handsome enough to resemble the window of Asprey, including one of my favourite desserts in miniature, Lemon Meringue Tart with a fine, buttery shortcrust pastry. The sweetshop inspired Rhubarb and Custard Choux boasted an indulgent vanilla crème patisserie and tart fresh rhubarb compote with a perfect craquelin exterior adorned with baby pink icing and a sprinkle of freeze-dried raspberries. The blood orange French macarons were another patisserie masterclass, boasting a crisp shell and chewy almond centre, while the vibrant citrus flavour proved an ideal choice to counter the sweetness. Finally, a cocoa-rich but cloud-like Earl Grey, Chocolate and Hazelnut Mousse rested on a melt-in-the-mouth biscuit base, made all the more indulgent with a shiny mirror glaze, chocolate disc and touch of gold leaf. Did we take anything home? Don't be silly.
Afternoon Tea at The Manor House, Castle Combe is priced at £42 pp and served every day from 1pm to 4pm. For more information and bookings please visit the website.