A tribute to the British countryside, Woven by Adam Smith, is the exciting new fine dining experience at Coworth Park, the five-star Dorchester Collection 71-room hotel set within just under 250 scenic acres of parkland near Ascot in Berkshire. The main mansion house in which Woven is situated dates from 1776 yet the new restaurant couldn't be more contemporary.
The ethos of Woven is about 'weaving' many elements together to make a beautiful whole, and above all a memorable modern dining experience for guests, with Martin Hulbert Design having ingeniously orchestrated an elegant space, eloquently expressing the harmony found within nature with a host of tactile fabrics and materials including natural wood, black compressed recycled paper dining tables and bespoke conker table sculptures – a worthy setting for Smith's most flamboyant and creative menu yet.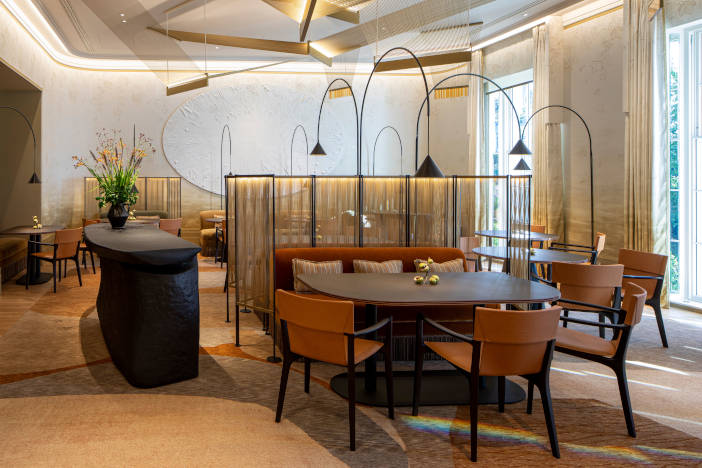 Divided into four menu sections – Pantry, Larder, Stove and Pastry – each showcases local, home-grown and foraged ingredients throughout the seasons and hails the magnificent bounties of the English countryside, including Coworth's herb garden, meadow and local woodlands from which Smith takes direct inspiration. That said, the food at Woven always feels luxurious rather than preachy. Smith glides past the pitfall many a foraging chef has fallen into, causing the diner to feel like they're being subjected to a health regime rather than spoiled with the most delicious and opulent morsels of a lifetime. Not only was there enough caviar to sink an ocean liner, but decadent lobster and truffle were also interlaced throughout the meal.
Talent-spotted by Michel Roux Snr at a young age, Smith's impressive CV charts his stratospheric culinary rise from pot washer to a chef at The Ritz London where he spent ten years refining his classical knowledge prior to joining Coworth Park as Executive Chef in 2016, achieving a Michelin star that he has maintained ever since. And Woven is undoubtedly the highest point in his career to date. As a believer in first impressions, mine were extremely favourable, not least when I passed one of the chefs on the way to my table who was in the process of garnishing one element of our forthcoming tasting menu with extraordinary precision.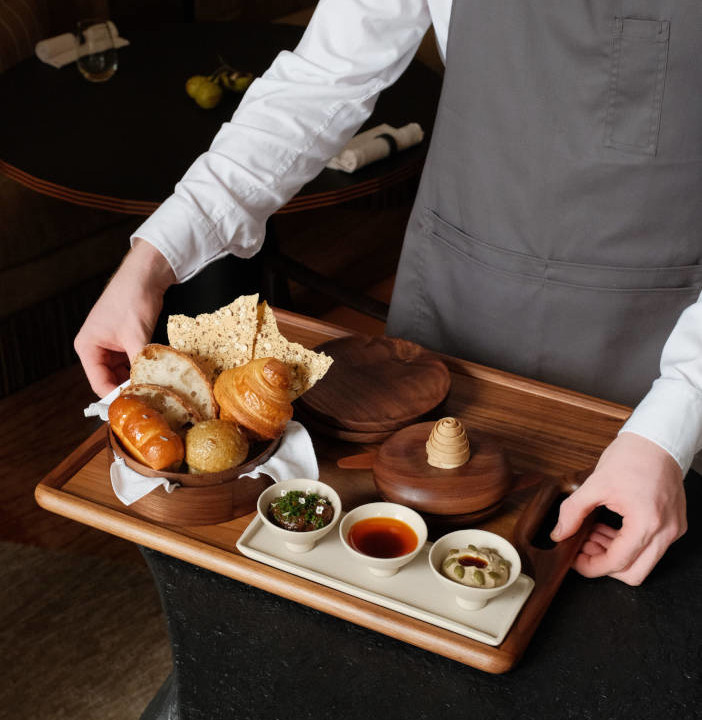 Smith also made several appearances in the dining room throughout the evening in order to present certain dishes to diners and is clearly relishing the creative freedom the new concept has afforded him. Rather than one or two 'signature' dishes, the entire Woven tasting experience is a vibrant and joyful celebration of Smith's classical training combined with a love of international cuisines, for which not just his skill as a chef but his keen palate have been equally important.
Although Woven probably don't like to think of themselves as a 'fusion' restaurant, Smith's classical techniques boldly merge with Asian influences which were apparent from the opening selection of 'Snacks' from the Pantry section of the menu; Sea Bass with XO sauce, and an inspired Cotswold 'Coronation Chicken', marinated for 24 hours, confited, compressed and deep-fried then glazed with a green apple juice and spice reduction before being served as a lollipop garnished with coconut and coriander cream. The A5 salad presented as a refined summer roll of mooli was equally inventive, on which a perfectly seared slice of Wagyu was draped seductively.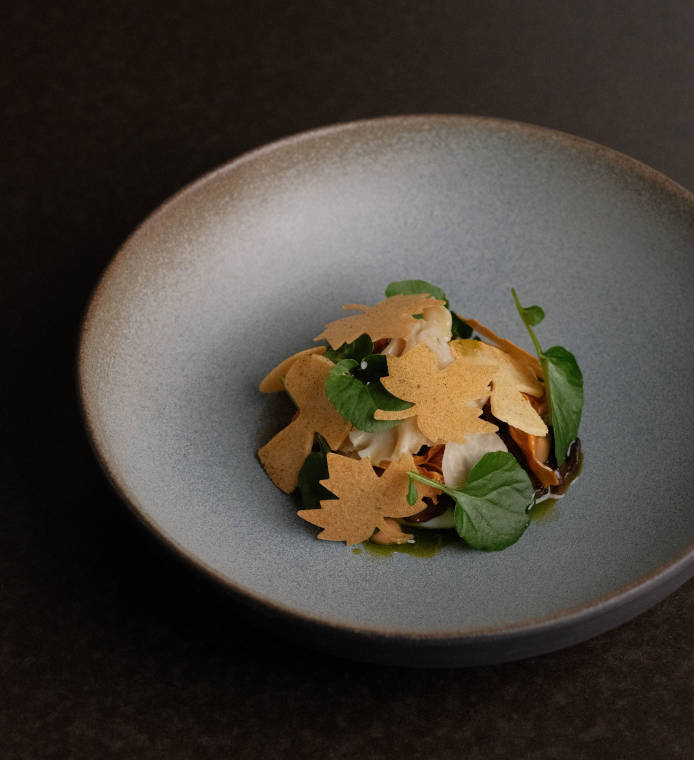 The bread basket, served as a course of its own, and picked-at through following dishes, included among other baked delights a moreish Old Winchester cheese croissant, and a sticky lavender and honey Parker House roll, to be enjoyed with a selection of creative butters and dips such as lobster oil with cherry molasses, an onion miso with chives, and a brown butter with pumpkin seeds.
Every bite, never mind course at Woven is designed to delight Chef's extremely discerning diners and, just like the design of the restaurant, the attention to detail is nothing short of breath-taking. But whilst the cuisine is innovative and mind-bogglingly precise, the atmosphere is relaxed rather than formal, with a well informed and approachable front of house team who clearly enjoy presenting playful dishes. The surprises continued with an imaginative tribute to the famously British jellied eels, utilising every part of the fish for maximum flavour and sustainability. I don't suppose many Cockneys have ever experienced their favourite dish accompanied by a yuzu bonbon dotted with caviar or a jelly designed to melt theatrically when Chef poured on the warm, silky smoked eel veloute.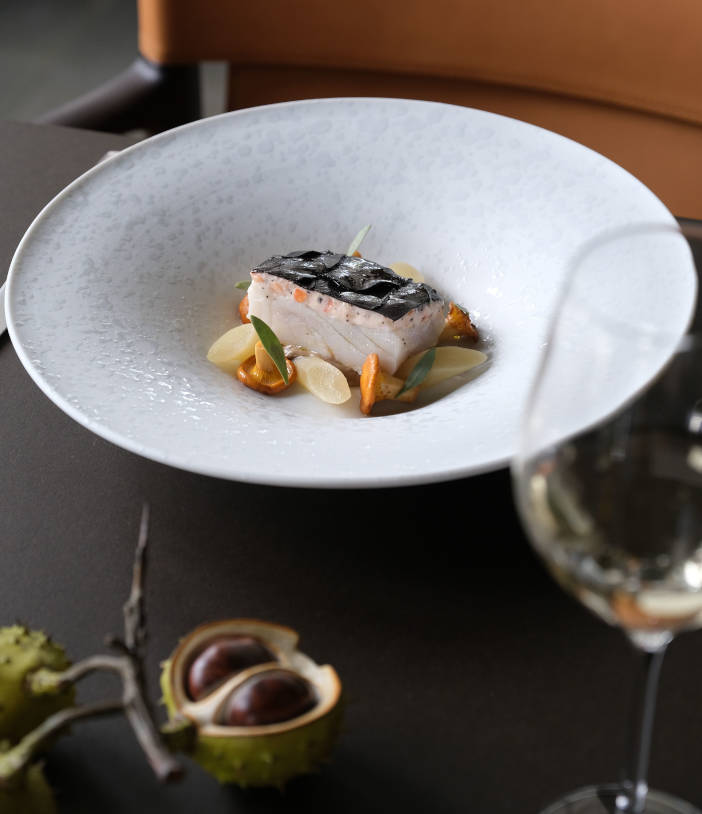 Further courses of this culinary extravaganza included perfectly cooked hand-dived scallop with celery, bergamot and golden oscietra caviar, and a plump slab of Cornish turbot with lobster, salsify and truffle. Each dish was admirably balanced in salty, sweet, sour and savoury flavours, and soft, firm, silky and crunchy textures, delivering on every aspect of the luxurious dining experience.
For pudding, chocolate lovers will want to climb the stairway to heaven by way of Smith's signature milk chocolate dessert; layers of milk and dark chocolate brownie, mousse and ganache, seasoned with Maldon sea salt and sprayed with, you guessed it, dark chocolate. As if that wasn't divine enough, you'll also find a chocolate sable, cocoa nib brislet and a vanilla and crème fraiche sorbet to balance out the richness.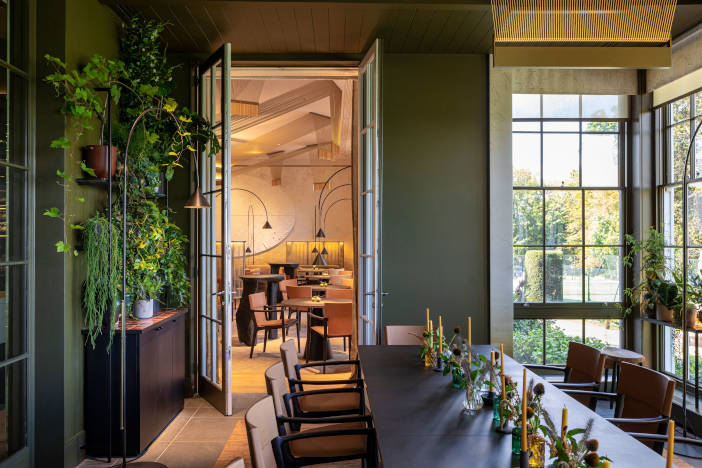 Cheese lovers will be delighted with the 'cheese room'. No creaky old trolley here, but a room, nay temple, dedicated to the ancient craft of cheesemaking, with an appropriate selection of the finest fromages known to humanity and a sweet-shop style ensemble of accompaniments to tempt even the most replete diner. The tasting experience is rounded off with a series of delectable, Willy Wonka-esque 'Treats' to accompany the coffee and further ensure you never forget dining at Woven; a cherry and tonka bean Madeline, Coworth's signature chocolate praline, a lemon meringue tart with a yuzu gel and a Jamaican Blue Mountain coffee fudge.
Adam Smith's Woven, by encompassing so much that is precious about planet Earth (and in particular England) has created a culinary heaven to rival any restaurant in Europe, with a front of house who appear less like a 'brigade' and more like guardian angels, choreographed for what is a revelatory culinary ballet that deserves a full house every evening. Surely a second Michelin accolade is written in the stars?
Woven by Adam Smith is open for dinner Wednesday to Saturday and lunch Saturday to Sunday. There is a set-priced menu at £80pp for lunch and £130pp for dinner. A plant-based menu is also available. Wine pairing £80pp. Coworth Park, Blacknest Road, Ascot, Berkshire SL5 7SE. For more information and reservations please visit the website.
Photography by James Thompson.