Rye, for the uninitiated, is a deeply lovely place. One of the Cinque Ports, this small East Sussex town, a stone's throw from Kent, is rich in literary associations – EF Benson, Henry James and Joseph Conrad all lived here, and James's old home of Lamb House is one of the town's finest private houses – and even today, it has a faintly otherworldly quality that makes it a true delight to visit. There are various places to stay, most of which are excellent, but only the truly discerning head to the town's pride and joy: The George in Rye.
We stayed at this former sixteenth century coaching inn a few years ago (see A Pocketful of Rye), and very much enjoyed ourselves. Yet a few months after our visit, tragedy struck the hotel; there was a devastating fire in the summer of 2019, and what with the cumulative effects of lockdown and the need to refurbish and in some cases rethink the George, it took three years for it to reopen. Nonetheless, the owners promised that it would be better than ever, and it feels more like an entirely fresh hotel than a refurbished one; a considerable feat at a time when innovation and flair are sorely missed in many places.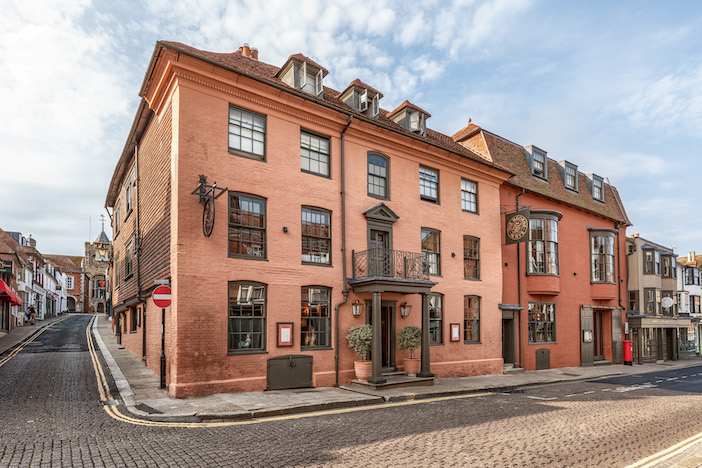 Although we're only visiting for lunch on this occasion, rather than a stay, it's obvious that the George has risen phoenix-like from the literal ashes. It's always been stylish, but now it has the air of a true destination hotel, taking its place amongst the finest places to visit in East Sussex.
We're sitting in the Dragon Bar, which is much expanded and extended from its previous incarnation, and now feels both like a welcoming spot for locals and tourists alike to come in and sample one of the excellent range of local beers (the Belushi IPA comes highly recommended) and for those who have come with a dog to eschew the stylish (and canine-free) restaurant in favour of having lunch here.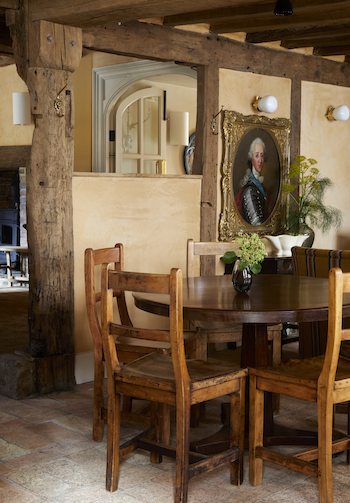 It's a fine line between old favourites reinterpreted in a George style and something more innovative, but it works superbly. Dinner is a more formal affair, but we feast on starters of burrata and heritage tomatoes, superb George burgers (with crispy pancetta adding a welcome touch of flavour) and chicken schnitzel, with a side of truffled mac 'n' cheese offering a suitably decadent treat.
The only minor disappointment was that two dishes I'd earmarked – crispy squid to start and fish and chips for a main – were both off that day, but that's a reflection of the George's commitment to using fresh produce at all times. And, with the aid of a fine bottle of white Rioja and puddings of Eton Mess and a delectable chocolate torte, I was able to put all of my fleeting grievances behind me in a matter of seconds, and settle in for a truly wonderful, splendid lunch.
We left the George sated and happy, wagging our figurative tails in admiration at the splendid job that has been done here, which should – fingers tightly crossed – ensure that the hotel retains its place at the heart of Rye for decades, if not centuries, to come. It's a truly special place, and we can only recommend that you visit to see it for yourselves. I promise that you won't be disappointed.
The George in Rye, 98 High Street, Rye TN31 7JT. For more information, including details of rooms, and for bookings, please visit www.thegeorgeinrye.com.