What do you do with a car park – indeed, a former garage forecourt – in front of one of London's finest hotels? Turn it into a cigar terrace-cum-plein air dining venue, naturally. In truth, it never looked out of place in its former role as the driveway to the lobby of the Beaumont, but there's something a little more aesthetically pleasing about its new look.
Coupled with this venture, the hotel has acquired a fine new piece of furniture, a custom made DeART humidor. Indeed, it was to mark the occasion that Hammond and I, himself no stranger to these pages, decided on dinner accompanied by the great and the good of the cigar fraternity – and sorority, for that matter – to toast the new acquisition, and the hotel's forthcoming plans to embellish the cigar terrace and dining offering.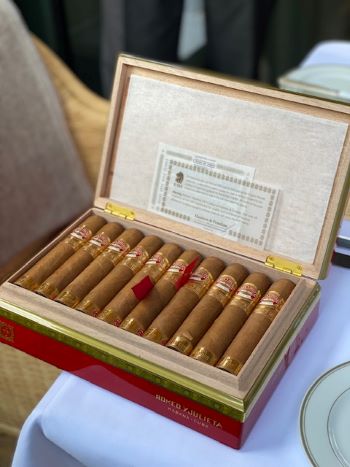 "Is that all for us?" I ask, as cigar sommelier, Antonino, greets us with a methuselah of Pommery grand cru as long as my arm, deftly filling a flute, before he turns his attention to the first treat of the evening, producing a deep crimson lacquered box of Romeo and Julietta Linea Oro. They're hidalgos, which befits our temperament, named as they are after Spanish gentlemen; its silky tones caress our palettes as effortlessly as the bubbles and, over a trio of amuse bouches, Hammond fills me in with the sequel to his Around the World in 80 Cigars adventures.
We're accompanied by David Sinclair, from Macallan whisky, who, during the course of the dinner, turns our meal into a single malt pairing of the distillery's finest. Hammond and I are in seventh heaven. As a mackerel and scallop tartare arrives, I'm bouncing between the soft, vanilla tones of the 12 year-old double cask and the caramel notes of the Linea Oro.
Two further drams follow; a divine pairing of the 2020 rare cask, as velvety as the roast Salt Marsh lamb and smoked garlic mash it accompanied; and, over a dessert of bitter chocolate and olive oil delice with buckwheat ice cream, their 18 year sherry oak cask. Soft and rich, it's a panoply of clove, orange, ginger and dried fruits, a fitting tribute to the bitter chocolate. And as if my cup can't runneth over any more, Antonino comes round with a final hurrah; firing up a pair of Montecristo Dantes.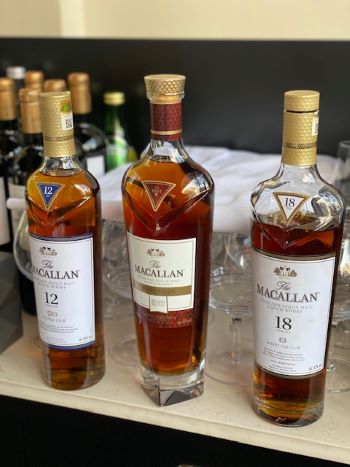 "This is a treat," Hammond tells me. "They're limited edition, and it's a lovely smoke; flavoursome, light on resistance, it's a real pleasure." This mighty seven inch stick looks like it might last the best part of the evening, so we top up our drams and Nick fills me in on the story behind it; so named for the hero from The Count of Montecristo, Dumas' novel, which was a favourite of the torcedores, the cigar makers, entertained as they were by the lector, reading to them as they rolled.
As we conclude this model way to spend an evening, I ask Antonio about the DeART humidor; I'm curious to see it, to understand the significance of the occasion. He responds gleefully, ushering me over with a skip in his step and stands before it, his eyes twinkling with pride. Had I not known what it was it would still have turned my head as I walked into the Magritte bar. Taller than us both, it shimmers with lacquer, the frontispiece embossed with a tobacco leaf motif inlaid with the outline of Cuba.
"We commissioned it," Antonino tells me, "Do you know DeART?" Not well, I confess. "They are in a small town, Calvenzano, in Bergamo in Lombardy," he explains, "known for their exquisite craftsmanship." As he opens it up, the doors glide silently apart, recessing into the sides, to reveal a trophy cabinet of Havana's finest, all lit as if by a stage technician for a West End drama. All that was lacking was a sweeping score for the reveal and you've got an Oscar winner right there.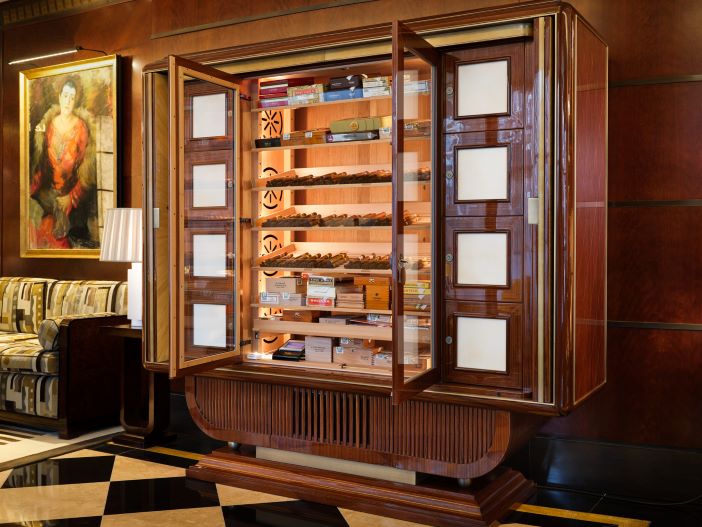 "I helped with the specification," Antonino continues, "it's made in Sapele mahogany, with maple inlay on the sides, and the inside is lined entirely with Spanish cedar." As well as the central display, there are individual lockers on the sides for private collections. I find myself somewhat mesmerised. Antonino closes it and it snaps me from my reverie. "But this," he says, pointing to the tobacco leaf motif, "is the best part. This is Amboyna burl wood, highly sought after, and Madrone burl." I can't say I often admire furniture as a rule but this was a thing of beauty.
"Stunning isn't it," I turn to find Hammond behind me. We make our goodbyes to our host. "D'you have one of those lockers?" I ask, as we depart. "I wish," he says, "apart from anything, it would give me an excuse to keep coming back."
The Humidor at The Beaumont will offer a wide range of the finest, perfectly-stored Cuban cigars (full list of cigar brands available on request), ranging from £17 to £320 in price, which will be available to smoke on the hotel's newly-furnished al fresco cigar terrace. The cigars can be enjoyed alongside classic cocktails and bar snacks from Le Magritte, the hotel's intimate bar, and eight private interior lockers can also be found in the Humidor, which can be rented on a yearly or half yearly basis by those who have purchased cigars from the hotel. For more information, please visit www.thebeaumont.com.