YOU'VE long known me as a man who loves a good cigar.
And while I'm the first to wax lyrical about the virtues of a handmade smoke from Cuba, Nicaragua, Dominican Republic or beyond, I'm also man enough to admit that cigars and their smoke have a drawback.
Once your stick is lit and billowing forth it's artful creation, the aroma of fresh cigar smoke is one of its major attractions; unlike with cigarettes, even the most ardent antis often admit a sneaking appreciation of the smell of a freshly-lit cigar.
Until that smell becomes stale. Then, frankly, it stinks.
But I think I have the solution.
It comes in the form of sleek, black, contemporary cup shape and it calls itself plume.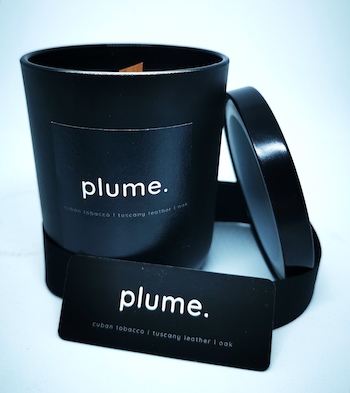 Designed by a cigar lover, plume. is, quite simply, a series of handpoured, scented candles, designed to add a top note to the best of a well-earned smoke and reduce the risk of inter-family warfare by painting over those stagnant undertones.
It's a brilliant idea. I've had one in my office for a few weeks now, lighting the little blighter up when the need arises. It has a pleasant, manly, but not overpowering aroma; think subtle aftershave.
Ingeniously, the wick is made from a cedar spill, itself made from the Spanish cedar used to line the boxes of Cuban cigars. Cunning. I doubted whether this would work if I'm honest, as cedar tends to burn and go out quickly, but my plume. continues to perform perfectly time after time.
They last a good long time, too; up to 40 hours, according to the manufacturer. The smell is subtle – so much so that you have to remind yourself at times that the candle is efficiently and quietly going about its business while you're going about yours. But it does leave a fleeting waft of 'handsome man just strolled past'.
A brilliant idea, then, for the cigar lover in your life, or for one who struggles to enjoy a good smoke because of its smoky after-affects.
You can find plume. on Instagram and at www.etsy.com.