Linen-draped table, sparkling glasses, bottles of inky wine, a pastoral outlook and a full humidor. That's a recipe for success. As spring coyly blossoms into full-blown summer, so cigar bars and terraces across the country spring up like hardy perennials in your herbaceous borders.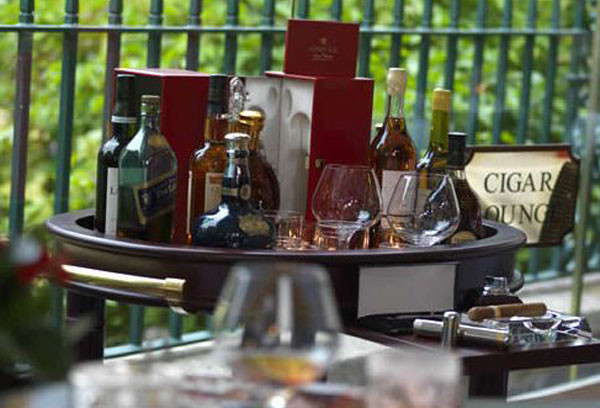 The judicious application of Nicotiana tabacum is becoming increasingly recognised as an attractor of pleasure seekers and a significant potential income generator for top class establishments. London in particular has cottoned on to this lucrative market. Cigar smokers are an epicurean lot, and we appreciate the finer things in life. Combine them in one unforgettable package and you will soon fill your dinner table – and your coffers.
The Cigar Dinner is in vogue and those establishments with a separate cigar area are first on the grid. Hotels in particular love this form of entertaining; it can be housed in it's own select location, away from those patrons who do not wish to partake, or who simply would like to object; it often caters for high rollers who are not afraid to spend a pretty penny providing the fare is first class; chefs love it because it gives them freedom to express themselves creating unique and sympathetic menus and waiting staff enjoy because cigar folk are an easy going and generous bunch. I love it because eating, drinking and smoking, sometimes simultaneously – are three of life's greatest indulgencies.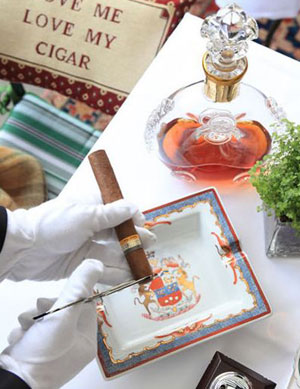 The cigar terrace at The Montague on The Gardens Hotel in Bloomsbury is one of the more svelte places to enjoy a fine Habanos. At a recent dinner, no less than three cigars were offered, along with a pairing of fine wines and a superbly designed menu – and all for the eye-rollingly inexpensive sum of £125. I just had to be there. So I was.
I'm not in The Masons. Nor am I a member of the Marylebone Cricket Club. But I do feel a certain sense of membership when I attend cigar events. Doesn't matter whether you're a window cleaner or a Barrister (and, incidentally, I've met both at these dos) when it comes to cigars we're all in the trenches together.
Through the elegant bar area, narrowly avoiding elbow collision with a pretty songstress tinkling the ivories and I'm standing on the threshold of the lovely terrace overlooking immaculate eponymous gardens. Much of the land here is part of the Bedford estates (of Woburn Abbey fame), and both architecture and horticulture around the gardens are, as one might expect; very English, very well maintained and very relaxing.
The Montague is part of the Red Carnation group and fellow diners – just a dozen or so of us – were welcomed with a glass of Champagne on a beautiful warm evening. It wasn't long before the first cigar of the evening was soon layering the overhead canopy with tendrils of smoke.
We open the batting with one of 2011's Limited Editions, the Hoyo de Monterrey Short Hoyo Piramides, the other sticks for the evening being the Vegas Robaina Famosos and the sought-after Cohiba Behike 54. Paired wines and food include beef tartar with quail's egg and balsamic vinegar, rack of lamb, Gigondas Le Grand Montmirali Brusset 2008 and a palate-rinsing Champagne sorbet.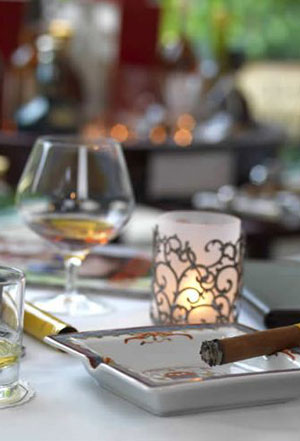 The predictable hit of the night is the Behike. As smooth and suave as a bottle of virgin olive oil, the fourth filler leaves known as medio tiempo gift whispers of spices from forgotten lands. No-one can quite put their finger on the signature 'swipe' which caresses the palate like a well-laden butter knife, but all agree; it's sublime.
As dusk falls over the gardens we're bathed in vermillion from the overhead heat lamps. The repartee is as refreshing as the menu, with the gathered team laughing and quaffing in equal measure. Expertise at the table is provided by the ever-genial Sean Croley of UK Cuban cigar importers Hunters & Frankau, who dissects a (duff) cigar to show us what goes into creating the little marvels.
More wine is summoned up and we enter my favourite bit of a cigar dinner; patrons are now replete and with a smoke firmly clasped in teeth or hand, reservations fall away. Talk gets ribald. We speak of sport and work, family and friends, but most of all we talk about cigars; the glue that binds us.
Don't miss out on the next cigar dinner at The Montague. The price mentioned above would barely cover your three cigars and a glass of something refreshing at any other time. Come and sample understated elegance and the camaraderie of the blessed.
For more information and reservations, please contact the hotel on +44 (0)20 7612 8416. The Montague on the Gardens, 15 Montague Street, Bloomsbury, London WC1B 5BJ. Website.