The past couple of times I've visited the glorious Georgian city of Bath, there has only been one thing spoiling my enjoyment: it has rained. And I don't just mean a few drops of moisture, either, but big, heavy downpours of water, enough to soak one to the skin if you're brave – or foolish – enough to wander the crescents, promenades and avenues of this spectacular and beautiful place.
Yet, inclement weather aside, there is something exhilarating about the place, from one's arrival on the train onwards; as the Georgian expanse of Bath stone comes into view, it's all one can do not to feel overwhelmed, in the best possible way, by how spectacular it all is.
It is just as well, then, that the excellent new Hotel Indigo that has opened a stone's throw from both the station and the city centre can not only offer splendour and comfort to those who have the appearance of drowned rats, but is also setting out its stall to be one of the most interesting and quirky places to stay in a place that has always done rather well when it comes to hotels.
However, the Indigo has quickly established itself as primus inter pares by dint of taking a series of Grade I and Grade II listed buildings in typical Bath style, painstakingly restoring and renovating them (I learn from the jovial manager that individual flagstones had to be picked up, electrical wiring laid underneath, and then replaced) and finally converted into a hotel fit for purpose in 2020.
The process has taken nearly a decade from start to finish, but the results are very much worth it. The interior décor in the public rooms is a riot of fun and quirkiness, with eighteenth-century portraits knowingly defaced with animal heads, and the bedrooms have a similar sense of fun to them. Our 'superior' room had a post-modern take on a chandelier, and the design straddles 21st century sensibilities with its Georgian origins; there is even a knowingly excellent extension of the bed's headboard constructed solely of 18th century-style cornicing. The metro-tiled bathroom features the top-class Bramley products from Wiltshire, which are particularly ubiquitous and lovely, and the whole shebang becomes fit for any Jane Austen hero or heroine.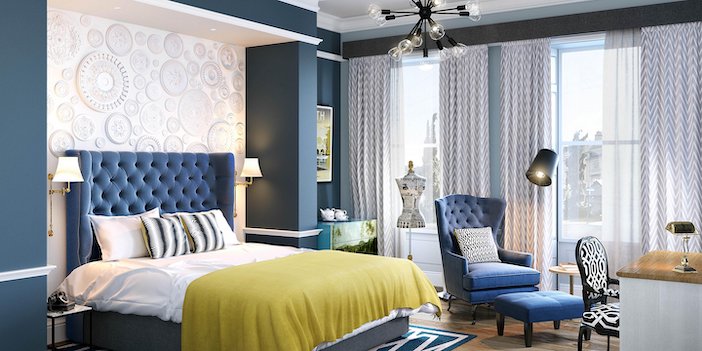 Yet what we were especially excited about here was the new restaurant, The Elder. The patron of the Michelin-starred Harwood Arms, Mike Robinson, launched his first collaboration with the Indigo group last year in Stratford-upon-Avon with the excellent Woodsman restaurant, and here he has returned with another winner. It's slightly different to Stratford, possibly because the elegantly green-painted rooms have a more formal quality to them, or perhaps due to the menu's different structure.
The a la carte menu at the hands of Executive Chef Gavin Edney comes with a decent number of fish and game choices, and is priced varying to the time of the week, beginning at £27.50 for two courses on a weekday and ending at £45 for three courses on a Friday or Saturday night. We particularly loved the crab tart and aged sirloin of heritage beef, and the puddings – especially a perfectly moreish blackberry tart – are a thing of beauty.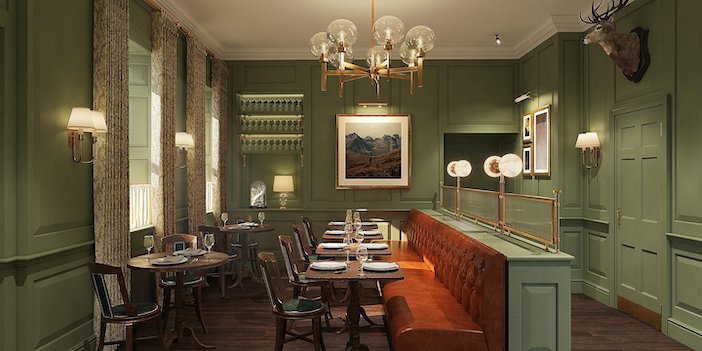 What is also excellent here is the near-parallel bar operation, which has a comprehensive and well-thought-out menu, including one of Robinson's signature venison Scotch eggs, but also a genuinely interesting and well-priced series of less formal dishes. Our daughter had a very fine pappardelle with venison ragu, and there were all sorts of interesting, fun things to eat on it, which would be perfect with one of the excellent cocktails and glasses of wine; I enjoyed my Highwayman, a whisky and ginger number served in a pewter tankard, and my wife raved about her Colada, a kind of post-modern take on the Pina Colada served in a small glass. And a fine Churchill's Estate bottle of Duoro red complemented the mains nicely, too.
After a more than comfortable night's sleep and an excellent breakfast – in which the inevitable social distancing measures didn't affect the splendour of the top-quality full English or my wife's avocado, poached eggs and marinated tomatoes – we wanted to explore Bath for a little while, but the appalling weather made a jolly stroll around the Royal Crescent impossible.
So it was down to the Holburne Museum, one of England's greatest collections of art and interesting objects, not least its fine juxtaposition of Gainsborough portraits and 18th century porcelain. At the time of writing, it's displaying a fascinating exhibition of Grayson Perry's early work, as he came to refine his skills as a potter in Eighties and Nineties' London. Situated in the Georgian splendour of the galleries, and with informative commentary by Perry on his exhibits, it's a must-see for anyone interested in this remarkable man's early career. There's a grittiness and 'adult content' warning to it, but it's an unmissable spectacle nonetheless.
As is Bath. There is much more to be raved about there, from its punching-above-its-weight cultural offerings to its superb bars and restaurants, but don't take my word for it, visit yourself. You will not be disappointed.
Hotel Indigo Bath 2-8 South Parade, Bath, BA2 4AB. For more information, including details of offers and events, please visit www.bath.hotelindigo.com. For more information about other properties in the Hotel Indigo portfolio, please visit www.ihg.com.