Anxiously eying the turtle soup laid out on the table before me, I admit I was hesitant to sample my first spoonful. It was a first, let alone at breakfast time, but it was only one of many exotic entrées to pass our lips at legendary New Orleans restaurant, Brennan's. Dainty bowls of oyster soup and chicken andouille gumbo were also sampled but it was the reptilian delicacy that piqued our interest. My partner and I were intrigued; turtle soup is a local favourite we were assured, unlike the alligator skewers sold to tourists. The flavours were robust but were we picking up on the dish's dominant sherry and spices rather than the turtle itself?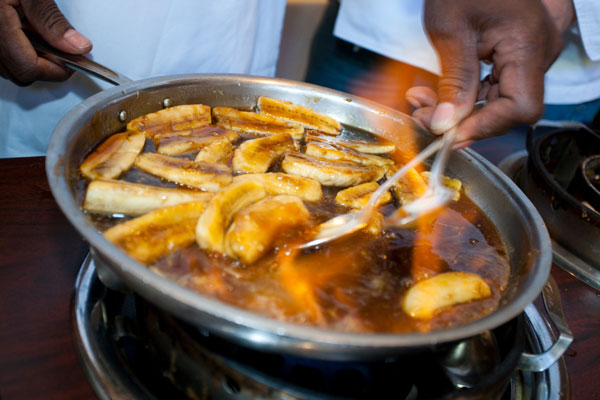 Undecided on the turtle, we were, however, sure of something: New Orleanians are obsessed with food. If they're not cooking it or eating it, they're talking about it; their grandmother's jambalaya, the best po'boy in town, or Uptown's latest bistrot opening. And like the flamboyant jazz that has made the city famous, the cuisine of New Orleans (which weaves together French, Spanish and African influences) is one of a kind. Eating our way through the Crescent City – in between chasing second lines in the Tremé and leisurely promenades in the bohemian Faubourg Marigny – we discovered traditional NOLA dishes, as well as the local joints breathing new life into Creole staples.
In an elegant dining room overlooking a typical French Quarter courtyard, the sharply dressed waiting staff at Brennan's have us sit up that little bit straighter; breakfast here is serious business. For well-to-do locals and curious tourists alike it is an event, one that requires expert pacing, evoking an atmosphere that can only be described as 'old New Orleans'. We knew we were in trouble as soon as our affable waiter, Lee, delivered a fresh-out-of-the-oven platter of cinnamon toast made using French baguettes. Although the clock had barely struck 9am, we washed it down with nutmeg-laced brandy milk punch, a popular New Orleans breakfast cocktail. Trouble indeed.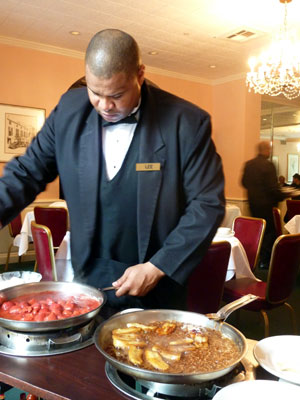 The locals had warned us to "forget the diet" and they weren't wrong. My main dish of Shrimp Sardou and Eggs Hussarde was piled high with spicy, crispy battered prawns tumbling from a bed of creamed spinach, accompanied by poached eggs and bacon, all drizzled in a tangy Hollandaise sauce. The finale: a duo of Crêpes Fitzgerald and Bananas Foster (the dessert of New Orleans as well as a Brennan's original creation) was divine and flambéed table-side to a chorus of "oohs" and "aahs".
Luckily we had room for dinner that evening as we'd taken the locals' tip to venture into the Warehouse District and dine at hotspot Cochon. The airy dining room, overlooked by an open kitchen, was abuzz with the chatter of diners. We'd rushed over from iconic jazz venue Preservation Hall after only one (excellent) set, such were the rave reviews about this place. Our starters (smoked pork ribs with watermelon pickle and a serving of pork and black-eyed pea gumbo) were brought out quickly but unbeknownst to us a pattern was developing. Certainly, the service was efficient but perhaps too much so, with the mains brought to the table as we were polishing off our starters. And so the dishes went back to the kitchen as quickly as they came. When they reappeared, we were left in two minds about Cochon cuisine. The signature dish: Louisiana cochon with turnips, cabbage and cracklings epitomised melt-in-your-mouth goodness and I took great care to savour every heavenly mouthful. The smoked ham hock with farro, consommé, pickled squash and bitter greens lacked oomph despite the fancy legumes. Yet mention Cochon to a local and their eyes light up; a slightly off night in the kitchen, peut être?
We had better luck at Sunday brunch with our last-minute reservation at La Petite Grocery. Halfway down Magazine Street, nestled among antique dealers, vintage stores and trendy café-bakeries, this casual neighbourhood bistrot began life more than 100 years ago as an upmarket grocery store. And there are the photos to prove it, hanging on the walls of the sun-drenched dining room. The Sunday-only brunch menu boasts its own cocktail list ('Brunch Libations') and we didn't waste any time ordering some classic Mimosas. My partner's LPG Cheeseburger, with its near-perfect medley of pickles, onion marmalade, rocket, gruyere and mustard all on a succulent beef patty, was a guilty pleasure. As was the sweet and savoury combination of panéed chicken, buttermilk waffle, fried egg, homemade sausage and cane syrup – unusual on paper but not for one's tastebuds! After a cheeky butterscotch pudding and praline madeleines we left La Petite Grocery a few pounds heavier, but far from disappointed.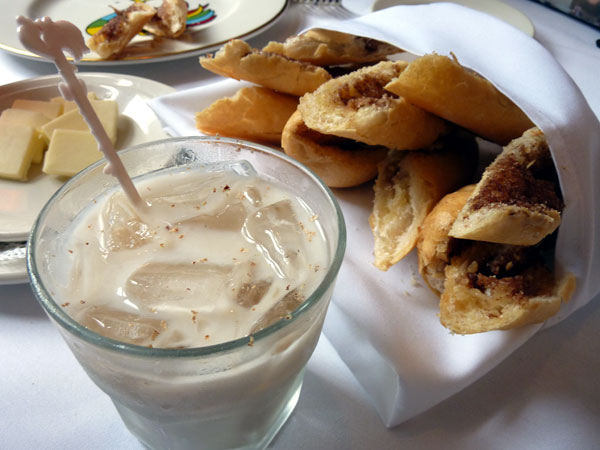 Miles from the tourist hub that is the French Quarter, we discovered a corner of New Orleans that happens to be home to some of the city's best dining. In an area known as Carrollton-Riverbend, modest restaurants like Brigtsen's, Boucherie and Dante's Kitchen receive much praise for reinventing Creole cuisine. The enthusiasm for Boucherie and chef Nathanial Zimet's 'fine dining for the people' meant we went in with high hopes and empty stomachs. Tucked away in a leafy residential area (but well worth the hike from downtown), the restaurant is housed in a quaint cottage with a cosy dining room for little more than 40, a tiny bar at the back and an equally mini porch out front. We couldn't ask for more, frankly; excellent, reasonably priced food, slick service from on-the-ball waiters and a friendly neighbourhood feel. We began with the collard greens and grit fries – a revelation thanks to a combination of duck stock, garlic and pepper vinegar – and the boudin balls with garlic aioli.
Equally delectable were the mains; the Basque cider glazed smoked scallops with dehydrated apples and beluga lentils struck the sweet and savoury balance just right while the smoked Wagyu beef brisket was rounded off with a mini-mountain of yummy garlicky parmesan fries. Wanting to top off the meal with a typical NOLA dessert, we gleefully indulged in Boucherie's Krispy Kreme donut-twist on the traditional bread pudding. And then it dawned on us; there are no bad meals in New Orleans, just those bad for you (and your skinny jeans). But as the locals will tell you: "Laissez les bon temps rouler" (let the good times roll), and you can worry about your waistline when you get home.
Brennan's: 417 Royal Street, New Orleans, LA 70130. Tel: (504) 525 9711. Website.
Cochon: 930 Tchoupitoulas Street, New Orleans, LA 70130. Tel: (504) 588 2123. Website.
La Petite Grocery: 4238 Magazine Street, New Orleans, LA 70115. Tel: (504) 891 3377. Website.
Boucherie: 8115 Jeannette Street, New Orleans, LA 70118. Tel: (504) 862 5514. Website.
With thanks to the New Orleans Convention & Visitors Bureau. Website.