He glides across the dining room with the sure-footed softness of a dancer. He's silent and quick; you're never quite sure where he is. One moment he's in the sidelines fingering a bottle of venerable Claret, the next caressing a swan-shaped decanter with the steady hands of a surgeon. He'll arrive at table with a trolley of chilled Champagne and lure you in with little more than a look.
He works at Le Cinq and is the smoothest sommelier I've ever seen – smooth, mind, not slimy. I can see my partner tense as he comes up behind her; it's a tension that subsides as she visibly melts with his low, deep, sonorous words. "Madame, please allow me to find a glass of wine for this course." She's still looking a little rosy and smiling to herself as he moves on to the next table. "It's like he's telling you the best secret you'll ever hear," she says, "I could listen to his words forever…"
Some commentators would argue that there is no place for these Parisian grand restaurants at the forefront of modern gastronomy. Some would see semi-whispers from sure-footed sommeliers as silly interruptions – anachronistic, overbearing leftovers from another age. The dinner-jacketed waiters and trolleys groaning with mignardises and ripe cheeses do nothing but stifle and suppress, they say – "it's all too much!" They moan about the pomp, ceremony and elitism, the starched fripperies of long lunches in regency rooms. And the prices – what about the ridiculous prices?
I have heard it argued that French food is only good when it works from the bottom up, not the other way around. People speak passionately about peasant food. I can hear foodies whispering in rapturous tones, describing that dreamy little Provençal auberge, or their dramas in Marseilles searching for the rustic charms of the perfect bouillabaisse, or of blue-veined cheeses and charcuterie in a Lyonnaise bouchon. "These are the true glories of French food," they say, "not some pompous Parisian dining room!"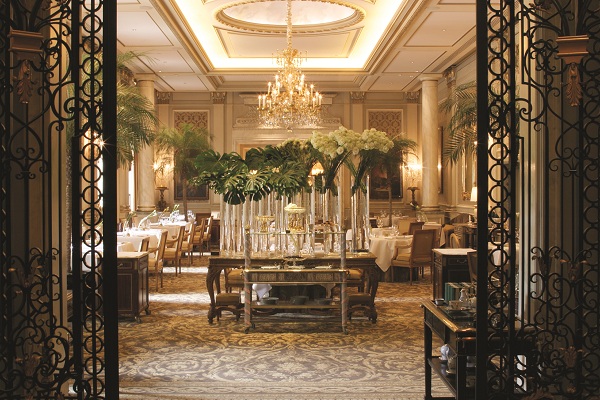 Those I mention above are some of the the ever-dwindling few that still rate French food. Many don't bother anymore. French food is boring and dated, its buttery principles clog up the arteries and its archaic adherence to form is nothing but a bore. No, it's Spanish modernism, Nordic innovation or the ballsy little neo-bistros that they're after. Foraging trips to the highlands of Denmark, or a gastro-odyssey to San Sebastian – these are the voyages that any self-respecting 'foodie' will be going on this winter.
Please allow me to be clear. No man enjoys a good Provençal daube served in a simple dining room more than me. I'll slurp down bouillabaisse in Marseilles until the owners close their doors. I'm as enthralled by good, solid French provincial cooking as I am by the fascinating new ripples of subversive modernism that have changed the way we eat and brought inimitable dining rooms like Noma and Mugaritz to the fore. What bemuses me is the way that a certain type of Parisian restaurant seems to have fallen foul of the world's gastrocultural elite. I struggle to understand how some judging panels seem to have confused the criteria that dictate what it means to be among the 'best' restaurants in the world. I would argue that eating in one of the unrepentantly French, gloriously singular and resolutely professional restaurants that exist in the city is one of the most exciting dining experiences you'll ever have.
To stay at Le Bristol on a bright Saturday in October when the warm sun drenches Rue du Faubourg-Saint-Honoré is one of life's most rarefied pleasures. Le Bristol, part of The Leading Hotels of The World group, is one of a tiny ultra-elite troop of hotels in Paris. Its rooms rise up around one of the few walled courtyard gardens of the city. It is a hotel that is marked by a sense of indescribable elegance and classicism. The Terrace Suite is, in my opinion, among the finest suites you'll find in the world. The hotel has a rich and ancient history. It was officially opened in 1925 and named after the Count of Bristol, an epicurean British nobleman who was known for his extravagant ways and a love of refined pleasures. During the war, the hotel became the official residence for American expatriates in Paris, as it was one of the only buildings with an anti-gas shelter. This is an extraordinary place to visit if you want to see the best that Paris has to offer.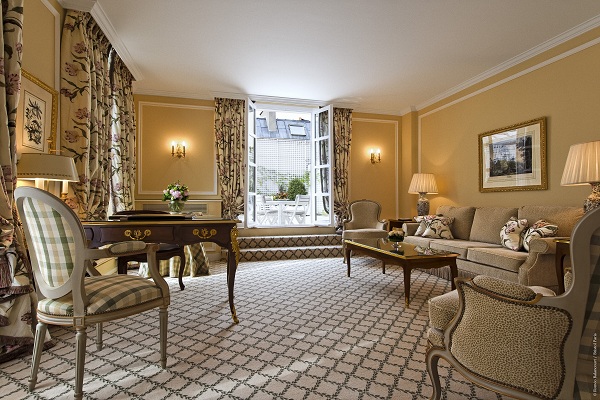 As we stroll through the hotel, toward the restaurant, I notice author and philosopher Bernard-Henri Lévy playing with his hair and propping up the bar – this is the kind of barfly that Le Bristol attracts. We are escorted through the bar and into Epicure, the three Michelin-starred restaurant that is perhaps the central jewel in the crown of Le Bristol. As we are shown to our table, a steaming balloon glides behind us in the steady hands of the maître d'. Poularde de Bresse en vessie, Fernand Point's composed classic of yesteryear, is presented here at table with such theatrical zeal that we can't help but look on – the dramatic qualities of this delivery are startling. We observe as the skilled waiter slices through the pig's bladder to release fragrant plumes of truffle-laced steam. He then deals with the chicken with a speed and flair that only comes from a lifetime dedicated to professional service – this is the first mark of excellence that punctuates our meal.
Head Chef Eric Frechon joined Le Bristol in 1999, helping it to achieve its second Michelin star in 2001 and finally that much-coveted third star in 2009. Frechon's food is classically French and many of the dishes that feature on the menu are perfect renditions of what might be termed the 'French masterpieces'. What is interesting about Frechon's cuisine is that it manages to maintain all the components of the French canon without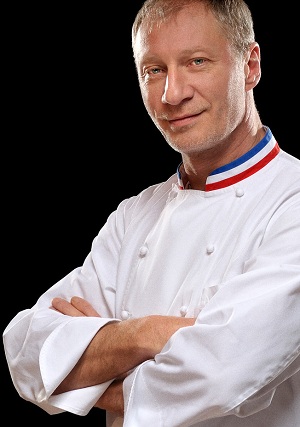 overwhelming at any point. There is a great sense of balance and refinement.
I will not bore you with a lengthy listing of the superb food that we enjoyed at Epicure, but there are certain dishes that demand a mention. One of these is langoustines with caviar served with celery cream and yuzu. What a dish. It is delicate and ethereal, but has a power and range of flavour that surprises. The key element is balance, balance between fat and acid, salty and sweet; the flavours sing together in symphonic harmony. Lièvre à la Royale is one of Frechon's signature dishes, a dish I had to sample here. This is one of the most hedonistically appealing dishes on the planet. A ballotine of braised hare stuffed with a thick slab of foie gras and coated in a sauce of black truffle that's been thickened using the blood of the animal. It's a demanding dish, one that involves ingredients that are redolent of death and the pungent, eerie flavours that accompany it. It's also one of the most rewarding plates of food you will ever taste, a dish where bold technique tempers the startling rawness that accompanies some of nature's finest bounties.
A short walk from Le Bristol, down Avenue Matignon, across Les Champs Elysées and you'll find yourself approaching Le George V, the Parisian outpost of The Four Seasons Hotel and home to Le Cinq restaurant. It is my belief that the dining room at Le Cinq is the most charming in all of Paris. There is an opulence that would, in less assured hands, border on the gaudy, combined with a sense of sharp modernism. The tone is just right, it's like a soufflé: a touch more and it would be ruined, a moment less and it would fail to rise. This is a joyful place to eat Sunday lunch.
Eric Briffard has run the kitchen at Le Cinq since summer 2008 and brings a wealth of experience to the role after extended periods in multi-starred French restaurants as well as a long spell in Japan. His time in Asia clearly had a significant impact on him. There is an extraordinary freshness here that comes from an understanding of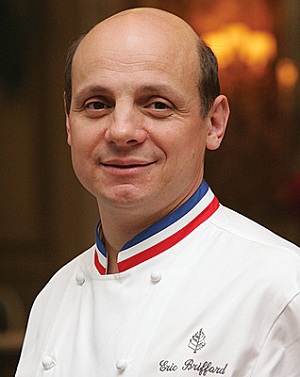 Asian flavours and techniques. The menu at Le Cinq is extremely sophisticated, and product quality is a major focus. It is a pleasure to see the most impressive ingredients and techniques from the European tradition used creatively to incorporate interesting Asian flavours. Trap-caught blue lobster is served in the shell with a light sauce made from red wine and herbs, but is accompanied with a steamed ravioli reminiscent of dim sum and crunchy cabbage sautéed with ginger. Briffard cooks all his meat, including fish, to medium rare – and the results are astonishing. John Dory with a lemon grass and turmeric sauce is challenging and delicious, with the Asian influences even more apparent than in the lobster dish.
These dishes do not merely please, they demand attention and intellectual engagement; ingredients become allusive, rather than merely perfunctory. Like a great film or work of literature, they ask something significant of the diner. A restaurant that manages to bring together the best components of Eastern and Western cuisine in a manner that allows both traditions to shine and doesn't muddle the two is a rare thing. Here the combinations are masterful and the fragrance, textures and freshness lift the superb ingredients into a realm that is rarely achieved. Each dish stands alone, crisp and clear in the memory, but you realise that the menu has a narrative arc: there is a succession of flavours that build to a height of drama, leaving you in rapt awe.
I find it difficult with all of this in mind to understand how restaurants of the deconstructed, zeitgeisty new schools find their way into the top 10 or 20 of lists like the 'San Pellegrino World's 50 Best Restaurants', when restaurants like Le Cinq and Epicure fail to get a mention. Don't get me wrong, I love the idea of 'bistronomy' – deconstructed fine dining in relaxed, cool settings – and the forerunners in these categories can offer very interesting dining experiences. I'd happily eat in this kind of restaurant every week, but I feel that they are deficient in too many areas to convincingly argue for their place at the highest level of gastronomic accolades. The food can be very good, but I find that it is often served with a certain standoffish arrogance that rankles. There's sometimes a sense that the diner should feel privileged to be eating there – which I think is wrong.
The wines of the neo-bistro may be esoteric and artisanal, but they're almost always lacking in range; if I'm having a significant dining experience, I want to be able to enjoy rare old Burgundy, prestige cuvée Champagne or ancient Port, should I feel like it. Perhaps food is the least
important characteristic of this argument, with setting, service and general attention to detail across the board all showing themselves as more vivid indicators. I simply do not believe that the neo-bistro or the new wave restaurant has the ability to make you feel in the way a restaurant like Epicure or Le Cinq does. There is little of the high drama that in my opinion makes a great restaurant timeless.
During our lunch at Le Cinq, a waiter brings my main course out slightly earlier than my guest's, which causes him to wait at table; straining, desperately willing the other meal to arrive, he doesn't just drop mine off and walk away. Seconds seem like hours in this taut drama – he cared so much. At Epicure, our waiter presented courses in stereo sound. He'd start on one side of the table, on Sarah's left, and then move to her right; before I knew it he was at my right, having worked his way around the entire table giving both of us perfect measure of his attention.
The Parisian restaurants I'm writing about do, of course, come with some characteristics that demand discussion. These surreal dining rooms would struggle to maintain the absurd standards they achieve and continue to evolve in the way they do without being prohibitively expensive. It is the elephant in the room, you might say; 92 euros for a plate of mushrooms does seem absurd when you look at it on paper. It's a complex issue though; that 92 euros breaks down into many different component parts that allows us to leave the real world and enter another more rarefied plane.
Conversely, the eye-watering prices might be part of the pleasure. When one is investing so much emotional energy into what might be the meal of a lifetime – a prix fixe of say £40 could detract from the experience and trivialise it. To make a comparison, few are looking for a total bargain when buying an engagement ring.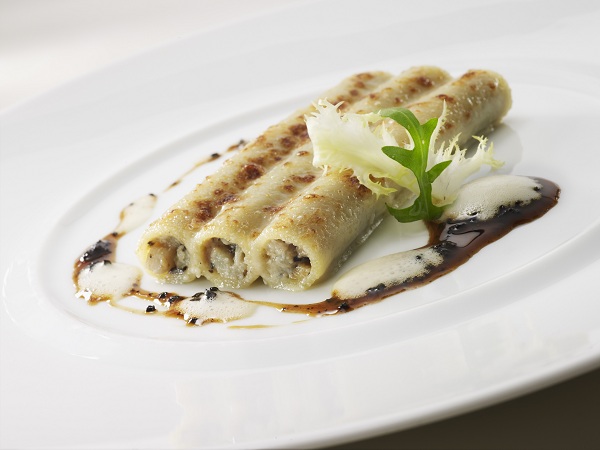 Eating at restaurants like Le Bristol or Le Cinq is not an everyday pleasure, or it shouldn't be. These are extraordinary experiences that should be seen as rare highlights in a life well-lived rather than regular occurrences. The way I rationalise these near-religious gustatory departures is to imagine where I would choose to eat if I had but days to live. Where would I be if money wasn't a consideration and I could choose to let go and fall into the soft spell of gastronomy? I would want the 'best' restaurant in the world, or at least somewhere that would do a convincing job of showing me that it was. I would want every aspect of the experience to shine, this being my last or most treasured attempt at eating. I'd be placing a huge weight of responsibility on those delivering the goods, and I'm fairly certain that the teams at Epicure or Le Cinq would look after me.
I'm not interested in the best on a budget or the world's coolest or most democratic. I'm looking at the idea of the best, and therein I'm looking for principles that came before and yet will outlive me – overriding qualities that are enduring, yet ephemeral and impossible to summarise. It needs to be something that pulls at the heart strings, shocks, delights and nurtures in equal measure. I'm now enthusing in a manner some might find unattractive, but I'm on a roll, so don't give up on me. A meal at this highest level can be one of the best things we make from the world we inhabit; it can represent something primal and overarching, a kind of alchemy with man and nature in perfect harmony. 'Best' is undoubtedly a problematic notion in the case of restaurants, but if we are to use this term in our discourse, then I would assert with wilfulness and joy that these surreal Parisian departures from the real world hold the key.
Epicure, Hotel Le Bristol, 112, rue du Faubourg Saint Honoré, 75008 Paris, France. The Leading Hotels of the World offers stays at Le Bristol from EUR 670 per room per night based on two people sharing including VAT. Visit the website for details. Le Cinq, Four Seasons Hotel George V, 31 Avenue George V 75008 Paris, France. Tel. 01 49 52 70 00. Website.