Michelin used to evaluate a restaurant based on whether it was worth a detour. Here, Victoria Haschka profiles 10 dishes from around the world, so outstanding that they just might be considered destinations in themselves.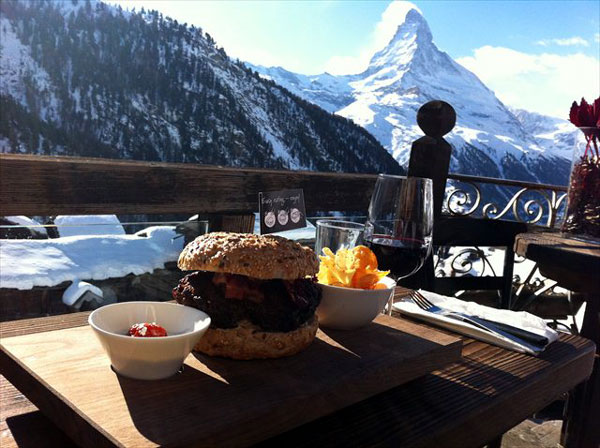 Ski in, ski out burger at Chez Vrony, Zermatt
It's magic. In your immediate vicinity, there's the burger. Beyond that there's the Matterhorn (it's much bigger than at Disneyland, I promise). It's not just the mountain air, or the novelty of eating in a Michelin-starred restaurant wearing ski boots. It's the dense and seed-deckled mound of a bun, bearing a flag instructing you how to eat it (cut it into quarters). Granted, you would need a particularly elastic jaw to wrap your mouth around its girth in one go. The patty is blushingly rare and there's a zippy coleslaw-style relish. To one side are crisps and a small dish of horseradish creme, with heat-exhausted cherry tomatoes collapsed on top. The patty comes from cattle that have eaten nothing but grass that grows on the mountains surrounding you.  The cheese comes from the milk of the five or six dairy cows the restaurant keeps in nearby Findeln during the summer. The burger is presented by staff who commute to and from the restaurant by sled. Luckily for those of us who like a large glass of burgundy with their burger, the ski slope from the restaurant is both short and kind.
Tomato fritters at Katina, Santorini
They're just listed on the menu of Katina, a small taverna in the fishing village below the honeymooner's paradise of Oia, as 'fried melted tomatoes'. The frumpy description doesn't do them any favours. These fritters are made from Santorini cherry tomatoes – little ones which grow sweet under the intense sun on the black volcanic soil of the island. The outside of the fritters is as crisp as a hash brown, with the batter turning slightly brittle in some knobbly corners. The inside is gooey and pliant, a hot tangle of smushed tomato and green herbs.  They're the perfect foil for a pot of tzatziki. It's cool and warm, refreshing and relaxing. It's the perfect Greek island break on a plate (and there's even a great spot to swim off rocks into the clear azure around the corner).
Pylsur in Reykjavik
This is not your average hot dog. For one, it tastes properly of meat, not an indistinguishable blur of brown. The sausage snaps when you bite it. It comes with not one, but two types of onions (fried and raw). And as for condiments, in an Icelandic pylsur there are no fewer than three. The best example of it is found in Reykjavik at Bæjarins Beztu Pylsur. It's a name that translates as 'Town's Best'. Bæjarins Beztu has been serving these hot dogs for more than 60 years. Ordering is a simple process: you point, nod and then hand over 280 ISK. Or you can ask for "eina með öllu" ("one with everything"). What you then get is a long white and fluffy bun and a smearing of goodness. The sausages are a combination of pork, beef and lamb (there are more sheep in Iceland than people). These days the sausages are rumoured to be braised in beer. The meat is sweet, salty and rich. Then there are the sauces. The first is a stripe of ketchup. The second is a special lightly spiced mustard the colour of tree bark. The third is remoulade. It's a mayonnaise that's been punched up with gherkins and capers. But the real heroes are the onions. Their pairing of a sprinkle of some that have been crunchy fried with the prickle of others that are raw is a stroke of ingenuity.
Sole with five flavours, El Celler de Can Roca, Girona
There's a phenomenon that occurs in high-end tasting menus. It's known as the 'white fish filler course'. It usually comes at about course four, after the shellfish and before the game. It's a fillet of white fish artfully cooked, but usually tediously plain. El Celler de Can Roca in Girona is a restaurant that turns a few things on their head. Founded in 1986, it is run by three Roca brothers – Joan is the head chef, Josep the maitre d' and head sommelier, and Jordi is in charge of pastry. This 'family restaurant' was ranked as the second best restaurant in the world in 2011.  Their fish course is a 'choose your own adventure story', specially crafted for pescatarians. It's painterly in its execution – a fillet of sole that's flanked by pallet smears of five different emulsions.  The fish has a gentle smoky flavour. Ranking up the side are splashes of fennel, bergamot, orange, pine nut and green olive. To continue to harp on about it would be tedious. Suffice to say, go, and if you do make sure the sole is on the menu you choose.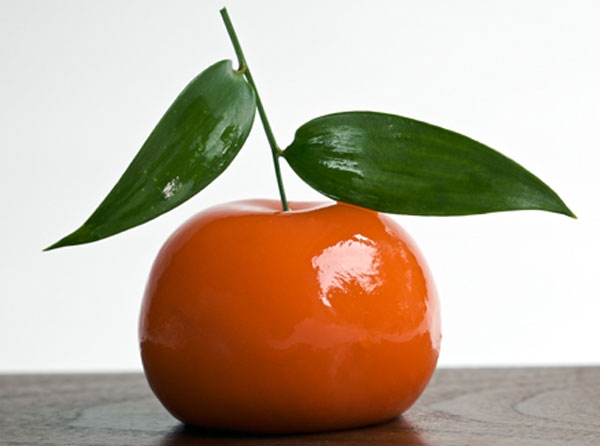 Meat fruit at Dinner by Heston Blumenthal, London
The novelty of the name should be enough. Meat fruit. It's a historical joke in the school of puns, guffaws, nudges and winks.  It looks like a mandarin. Except instead of housing segments of citrus, inside there's a chicken liver parfait, as smooth as a freshly shaved leg. The citrus adds lift to the richness of the pâté. There's char on the toast which carries some murky complexity. And there's the sheer pleasure of tasting some of Heston Blumenthal's wizardry, without having to take a train past Slough.
Beetroot granita and brown cheese at noma, Denmark
It's a circle of beetroot granita, topped with logs of Norwegian brunost, 'brown cheese'. We're told that some locals blanch when they discover its presence, scarred by childhood experiences with it.  It has a taste that is uniquely Scandinavian, with a muted toffee sweetness care of caramelised milk curds. But the real heroes in this dish are freeze-dried blackcurrants which shatter and dissolve as soon as you crunch through them. This dessert is the climax of a meal at noma. You can't get to it without winding your way through 'the hen and the egg', their twist on Danish doughnuts which are bisected by small fish – and the carrots and seabuckthorn. While the destination is grand, sometimes it's the full scope of the journey that makes a dish really shine.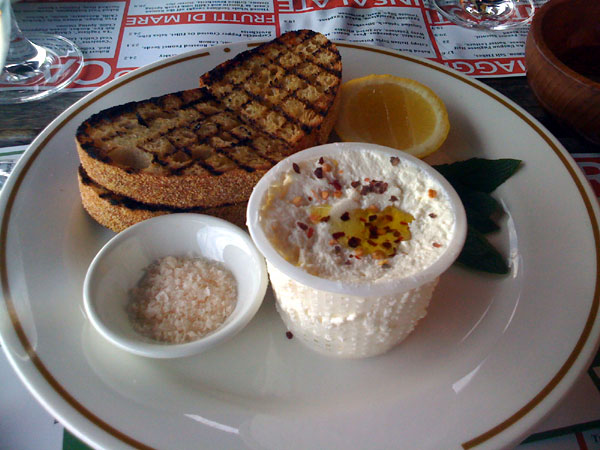 Bruschetta with ricotta, mint, lemon and chilli at North Bondi Italian, Sydney
You only live once. This is what is ghost written in block font on the glass balcony of North Bondi Italian Food. Maybe it's a cynical marketing ploy to get you to spend $AUD16 on a starter by the beach. Or maybe it's just the truth. The grilled bread comes burnished slightly from a flame, it's a devilish counterpoint for the tub of angelically smooth Pansaenella ricotta. The chilli, mint, salt and lemon are a happy band of backing singers which add personality. The best way to eat is to get your hands in it and make up little bruschettas of your own. To milk the most from the experience you should arrive early, preferably straight out of the surf with salt still crusted to stray bits of skin. This meal requires some sunshine, a seat at a table outside and a campari and blood orange or a carafe of pink wine by your side.  If you only live once, this is not a bad way to do it.
Guacamole made tableside at S &S in Tulum, Mexico
Who says blue and green should never be seen together? Over the waiter's shoulder there's the pristine Caribbean coastline, with water so blue it would make an aquamarine blush. The vibrant green is right under your nose being made to order in a molcajete – an oversized mortar and pestle. In goes a glutton's serve of avocado, salt, lime, diced onion, tomato and coriander. To go with it there's the choice of warm and brittle  tostada chips and pliant corn tortillas.  If you're looking for the ultimate experience, layer them both. Squish crisp and a duvet of the freshest guacamole around. Margaritas are a non-negotiable addition to the experience.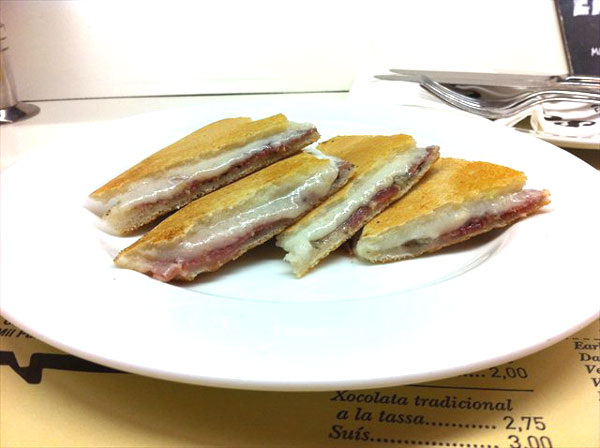 Truffle Bikini at Tapac 24
The best ham and cheese sandwich in the world is probably found in Barcelona, at Tapac 24. It's the tapas restaurant of Carles Abellán. A 'bikini' is how it's listed on the menu – which might refer to the triangle shape of a swimsuit bottom. Or it might refer to the atoll erupting, cataclysmic effect that comes from eating it. It's crustless, better than your mum used to do. It's lightly toasted so the innards ooze. There's the muskiness of aged jamon. And then, just to gild the lily into senselessness, there are specks of black truffle. This is a very grown up sandwich, which brings a type of glee best understood by giddy schoolgirls.
Aerated Foie at Wd50, New York
It's only when you hear yourself saying "I think I'd like all my foie to be aerated" that you realise you may have been spending a little too much time in high-end restaurants. Wylie Dufresne's cooking can dwell at the experimental end of the spectrum. His entree of fluffy foie gras is a revelation. The foie gras looks like displaced coral from a barrier reef and it has the texture of fairy floss. There's the pungent richness of the liver, but without the heft. For cut through there's Iranian plum and beets. To the side there are wafers propped like patient stegosauruses. It's so pretty that it's hard to start eating. But once you start, I'm warning you, it's darn hard to stop.