Everything about Thirty Six restaurant at Dukes hotel feels a little bit hidden. From the encased courtyard that lies off of St James's Street where you'll find the entrance to the hotel, to the restaurant's location downstairs, it is only with intent that one might end up here. In some ways, this marries with how Head Chef Nigel Mendham would seemingly want things – as if he's hoping people will come out of their way to discover his talented cooking, building his reputation in this big city of competition at his own pace.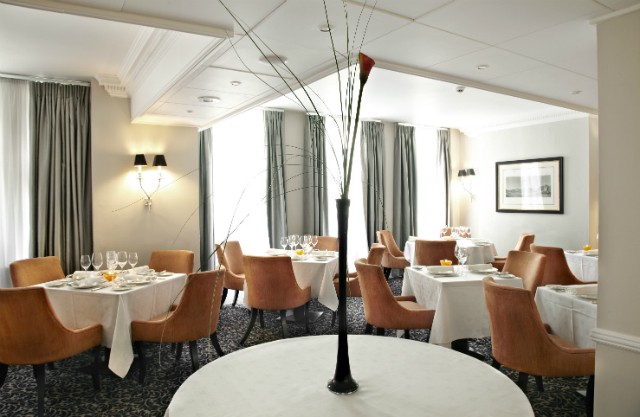 While Mendham's name may not be instantly familiar, he comes with high praise, having formed the London restaurant after years painstakingly building up his credibility as a gifted young chef outside the M25. His most recent accolade was the Michelin star he received at the Samling Hotel in Windemere. It was there he met Debrah Dhugga – now the GM of Dukes – who invited him to set up a restaurant in the iconic London hotel.
I met Mendham in the hot pink and lime green accented Perriet Jouet Champagne lounge along the hallway from Thirty Six. At first, I was surprised: while his next-door restaurant exudes a cool austerity, Mendham is seemingly shy and laid-back. The black and white carpet, crisp grey curtains and stiff burnt orange chairs that fill his dining room are writ large with formality, while Mendham is more your country lad brimming with ambition but seemingly unsure how to express his skill set quite so defiantly as the colour-block décor of his restaurant. Answers to questions are short and sweet, and his thumbs twist one around the other during the long pauses he takes to come up with them. He is the antithesis of big city, boisterous chefs like Gordon Ramsay or Michel Roux Jr. and seemingly uncomfortable opening up to prodding questions. I still can't decide if it's because he's fairly new to London's bright lights or because his route into cooking was far less fancy than others.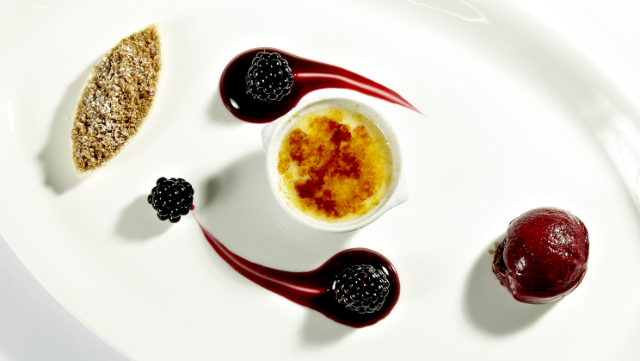 Mendham started in his career with no formal training, with no "French background" as he puts it. It was far simpler than that. One day, when working as a teenager at a Norfolk pub running food out from the kitchen, one of his colleagues was off sick and the kitchen was short-staffed. "I went in to help cook. I never ran food again," he said, adding that while his brother was involved in the restaurant trade it wasn't until then that he'd considered a career in it.
From there, he spent years climbing his way up to the top, purposefully choosing to stay in each position long enough to really learn from the role and restaurant. After Norfolk, he moved on to the Randolph Hotel restaurant in Oxford where, in two years, he went from commis chef to chef de partie, before he moved on to being sous chef at Stamford Park and then senior sous chef at The Lygon Arms in Worcester. It was at the latter that he met one of his mentors, Martin Blunos.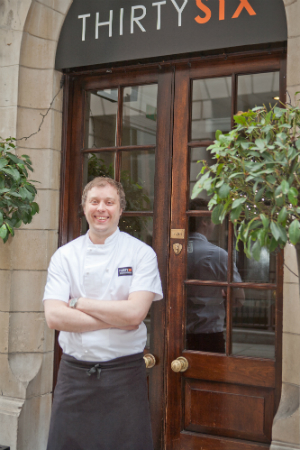 It is this idea of taking one's time to really learn the craft that Mendham believes is key to success. "I get CVs where people have moved from one place to the next after six months. But really it's about listening and learning, taking in information and staying in one place long enough to really learn what's going on. I think you should always move up a couple of positions in each job until you get to where you want to go," he explained.
When he moved on to the Windemere at the Samling Hotel after five years at The Lygon Arms, it was with the knowledge that he was ready to put his own stamp on things, having taken the time to understand what he wanted to impart on a menu. Part of that comes in the form of being very particular about suppliers – he still works with companies like Althams butchers from Lancashire despite the move down south – and choosing "really good, high quality produce". For Mendham, the particularity with which he chooses ingredients means he's faithful to seasonal produce as a mainstay on the menu. He also favours "all the good things mum used to cook" such as pork, which was particularly good in the area of Norfolk where he grew up.
After six years at the helm of the Windemere he decided it was time to take his career to the next step and try to make it in the Big Smoke. Of course, this meant leaving behind his hard-earned Michelin star, which he is firmly focused on achieving again at the 44-cover restaurant at Dukes. Since he arrived in the summer of 2011, he's already managed three AA rosettes so he seems to be on the right track.
"I had to have a clean slate, so it was a big risk to come down to London. And you can't just go and get a Michelin star; you have to be consistent. But it's the first time I've been able to work in a big city and I love it, I don't miss the countryside. That's one thing I don't see myself doing again soon, living outside of London. Unless I win the lottery," he said, finally cracking a smile.
So how will he get that accolade? With precision, it seems. While as a person he seems far too laid-back for the demands and pomposity of a big city, it is in his dishes that his confidence shines through.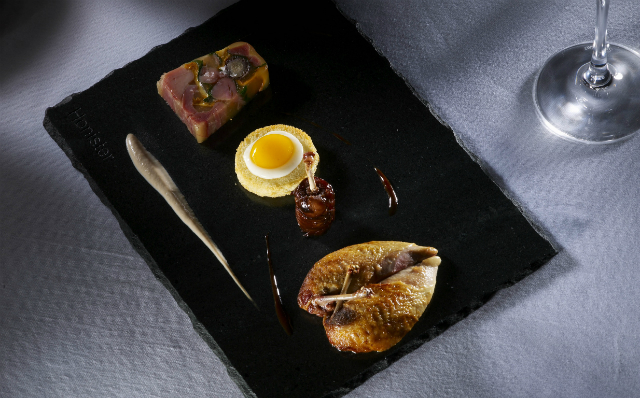 During a recent meal at Thirty Six, my partner and I were served picture perfect plates with layers of flavour and boldness of colour. From teeny quails eggs with bright orange yolks, served on a grey slate with an earthy selection of wild mushrooms and chunky artichokes, through to the Goosnargh duck – cooked rare and still bleeding lovely juices – with cylindrical celeriac balls and seasonal wild garlic, each dish was masterfully presented and aesthetically pleasing. A sharp, palate cleansing take on the margarita (a biting bright lime and tequila granita in a salt rimmed glass) was a refreshing break, while the 'Dark Chocolate' pudding of pave, caramelised banana and hazelnut was so elegant and sensuous I wanted to live off of it.
Contrast these dishes with Mendham's demeanour and you may be left puzzled. Even after an hour of conversation, I felt he'd be more comfortable sat on a bar stool in a country pub than he would wedged into the bright Marie Antoinette-inspired chair in the Champagne lounge, even if the latter is where his crisp, technical dishes belong. But that contrast is equally welcome in a city bursting with fame driven chefs. I can only hope Mendham holds firm on his true-to-self nature, even if the Michelin comes calling once again.
Thirty-Six by Nigel Mendham, Dukes Hotel, St. James's Place, London SW1A 1NY. Tel: +44 (0)207 491 4840. Website.