With the onset of autumn, the Arb's domestic doyenne, Angela Clutton, turns her hand to the year ahead in food. Seasonal is so…last season; pinch, punch, first Sunday of the month, we're giving you our monthly outlook. Take it away, October…
Which is your favourite month of the year? The one you most look forward to? I'm almost certain that mine's October – not least because people finally stop going on about their shock that summer (even this last summer to top all never-ending summers) is over. For October is unarguably autumn and there are leaves to be kicked. But it's the food that really makes October a contender. Man-oh-man, it's a great month for food. A most timely time, then, to kick-off my new column looking ahead at some of the best foods and recipes that each month has to offer.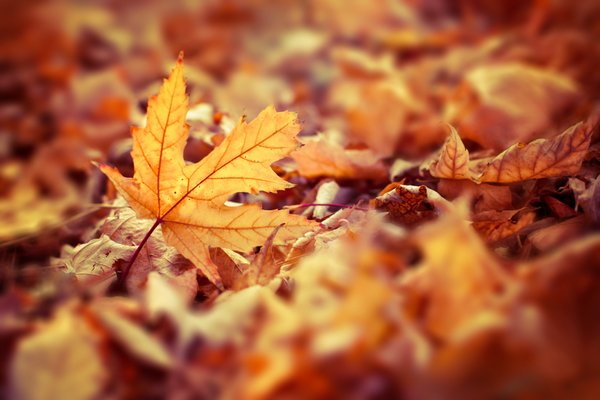 September was traditionally all about the harvest and its festivals of thanks and celebration for the hard work that had gone into making sure there would be food aplenty. By the time October came round most of the crops were cropped and safely stored away to see everyone through the winter ahead. This was – is – the month to make the most of nature's bounty.
There's terrific game to be had now. Remember that quick roasting, grilling or frying are best for young game's relative tenderness whereas older game needs you to give it some of its juiciness back. Cook those slowly in wines and stocks. Grouse, venison, duck, pheasant and rabbit should be pretty easy to get hold of. Hare less so but if you are lucky enough to find some then ask your butcher for its blood too. Not for nothing is it usually added in at the end of cooking jugged hare.
Saddles of rabbit work well marinated overnight in cider, calvados, juniper berries, carrots, onions and rosemary and then pot-roasted. And this recipe for braised venison in red wine with juniper is one that I know I'll be turning to again and again as autumn really gets its knees under the kitchen table.
Maximising the fat of the land has always meant more than just enjoying what's around when it's in season. Letting food go to waste was not an option for the harvesters of days gone by and it shouldn't be for us either. Before freezers – which I'm not a huge fan of for meat anyway – there was salting, smoking and potting. The last of which is eminently achievable for even the most modest modern homecook. Do it soon and I bet you'll be grateful come Christmas to be able to lay your hands on a speedy lunch of potted rabbit (or partridge, grouse, duck, pigeon or hare). Ready- made and home-made – the perfect combination.
October's wonderful fruits also lend themselves well to creating a larder of winter goodies. There are blackberries and elderberries (those two make sweet jam together); pears; sloes; figs; quince; and damsons for 'cheese'. The 6 months to 2 years that this sweet jelly needs to mature for pushes the limits of my patience so I reckon this is more something to look out for at cheesemongers and delis. Then slice into it on one of these Sunday afternoons with some strong cheese and maybe a glass of marsala to take the chill off.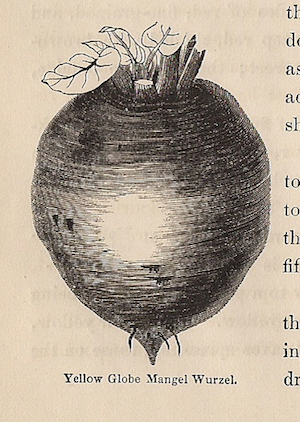 October's biggest (in all senses) fruit is, of course, the pumpkin. One of my favourite sights at this time of year is the pile of pumpkins outside a grocer's. And here's my favourite Hallowe'en fact: before the Americans got in on the act with their flash pumpkins, the Scots and Irish were carving festive lanterns out of turnips and the English were using something a bit like beetroot – the mangelwurzel. Has there ever been a better name for a vegetable? There even used to be – I'm not winding you up – games held in October for mangelwurzel hurling. But I digress. Pumpkins are what we're talking about. Their flesh is terrific as mash or for a creamy soup. Roasted pumpkin seeds are lovely to nibble on. Just clean them off, coat in olive oil and salt, then put them on a roasting tray lined with foil for 15 minutes at 140C. When they are ready they'll start to pop.
Talk of Hallowe'en leads us smartly onto apples. The great British apple has always been one of this season's most important crops. Its abundance one of the main reasons why it has historically featured so heavily in all the various festivals – whether in apple bobbing, divining the name of your true-love by peeling off the skin in one piece and chucking it over your shoulder to see what initial it forms, or toffee-apples.
Apple pies, crumbles and charlottes are perennial favourites for a reason. Similarly roasting them whole with sultanas, sugar and spices stuffed into where the cores were. Dorothy Hartley's mid-1950s book 'Food In England' has a lovely-looking recipe for Chaucer's Roast Apples. Peeled whole apples are roasted in sugar and galingale (galangal) and when served cold "they should look like frosted pink roses, in a syrup the colour of rose quartz". I feel that until I understand the literary reference I haven't earned the right to try these out but I'm itching to. Wikipedia has let me down so if anyone knows I'd be very grateful.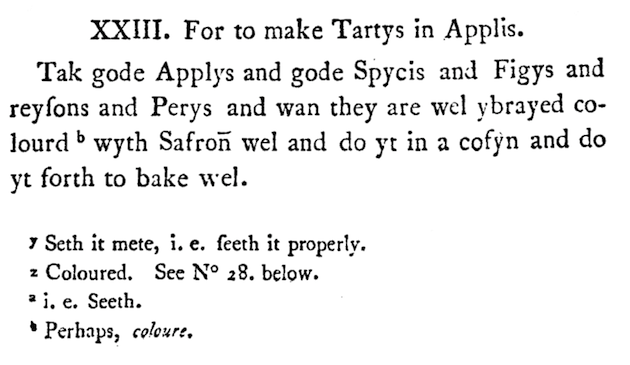 Apples are great in savoury cooking too. Especially anything pig-related. This recipe for boudin noir with calvados-flamed apples makes a super quick supper or starter for two:
Half a large boudin-noir
1tbsp unsalted butter
1tbsp vegetable oil
100ml calvados
2 green English apples
whole nutmeg
1. Slice the boudin noir into rounds 1-1.5cm thick. Quarter and core the apples; then thinly slice them into elegant half-moons.
2. Heat the butter and oil in a large frying pan. Lay the boudin noir into the pan, giving them two minutes each side. Remove to a serving plate, keeping them covered and warm.
3. Pour the excess fat out of the pan and the calvados in. Now flame it but bear in mind that calvados flames long and high. Once it has died down lay the apples in, season, and grate some nutmeg over. Cook until just soft – a couple of mins probably.
4. Now just arrange the apple slices in a pretty ring on top of the boudin noir and pour the juices over. For a lunch serve with hunks of crusty bread.
I mentioned toffee-apples earlier but really they're more of a November thing now. Another month that's right up there for me as one of my favourite cooking times of the year. October sneaks the win but even so there's lots of good stuff to look forward to. See you then.