Pleasure knows many boundaries. Dubai, a food desert, where water, ingredients and workforce are shipped in, and septic tanks pumped far out, has something of the pyramids about it.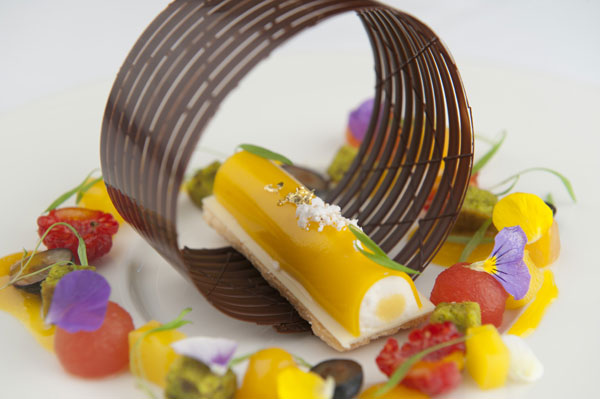 I entered its grids by limousine, guest of five-star hotelier, Sofitel, to appraise the first non-Europe rendition of their 'Stars Food and Art' gala dinner, organised by writer, Lise Goeman Borgesius-Timmer. But before I took my seat al fresco in 28 degrees dusk at round table, 'Stravinsky', I had a day to acquire bearings in this vertical, shimmering city.
Established around a creek as a pearling village, Dubai only recently expanded beyond recognition, its sky pricked by oil wealth drilled in 1966. Now, with reservoirs reduced to a dark splutter, it's brightly rebranded as a determined tourist lure. Hotels of staggering scale operate at staggering capacity despite the fact that kissing, sleeping, and even drinking water on public infrastructure may lead to the wrath of the law.
I met Arva, a pretty, earnest and outspokenly unpartisan food blogger, at Al Maktoum Street, 'near the Pic n' Save supermarket'. Offering a different culinary experience to Sofitel's £400 per head Stars, her itinerary for fellow food scribe, Nick Harman and I took in accessibly priced Iranian appetizers, Yemeni chicken, Lebanese shawarma, Egyptian falafel and Palestinian kunafa.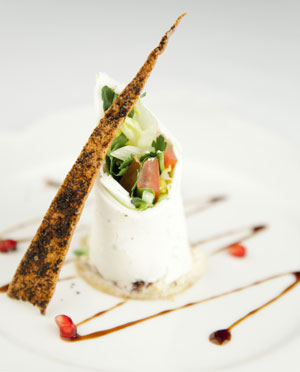 We chewed our first morsels in this land overlooking a multi-coloured fish tank in Persian restaurant, Sadaf (a survivor at 32). Arva said that although Dubai delights in netting celebrity chefs, she prefers raising awareness of smaller, street level eateries. In her relatively low-rise neighbourhood (once the city's centre) we spent a fattening afternoon ambling between pit stops, savouring soft grains of rice and savoury kabab kubnideh, Za'atar and cheese, taupe chicken poached in ghee, and mint tea (while avoiding deep fried Mars bars and the pap of everywhere chains).
The next morning, rinsed by imported water, Nick and I ricocheted between semi-automaton vendors at the photogenic gold souk, escaped, unintentionally, to the compelling fug of the spice district, and ultimately gazed across the widest point of the Creek. Here, small ships of character carry gold foil-wrapped tires, woven carpets and bulky air conditioning units amid calls to prayer. A £10 taxi ride saw us jolt from this slowly paced setting to the comfort of the sand-coloured Sofitel, between Dubai Marina and Jumeirah beach. From my 28th floor vantage, I spied brake lights of Lamborghinis flash as they stuttered along the mile long, shop fringed esplanade. Beside, Indians in blue overall clanked together spectator stands for a Red Bull event.
Rendering irate a killjoy guest who took to Trip Advisor to vent their woes, Sofitel's parapet between restaurants and swimming pool had been closed for conversion into the setting for what was billed as the largest gathering of Michelin Starred chefs in the UAE. Here, chefs who feel the need to show their craft showed well in Dubai over eight courses. Fellow food savvy guests, who are residents of the city, talked excitedly of local restaurants purveying the transplanted dishes of the likes of Locatelli and Nobu, and ways to circumnavigate liquor licence quotas. One also cussed the idea of crossing a lion with a tiger.
Despite looking like a pizza slice, the highlight was three Michelin-starred Thomas Bühner's smoked watermelon Carpaccio, bearing a texture similar to marinated peppers. This was partnered with overt, Dog Point Marlborough Sauvignon Blanc from the original minds behind Cloudy Bay, by raconteur sommelier, Jason Turner. His memorable sound bites included: 'a good wine is a wine you drink – a bad wine is one you don't.' Also very good was Giovanni d'Amato's cosy burrata 'lasagnetta', matched with one of few reds, the cherry and pepper flavoured, Chianti Nipozzana Riserva (Frescobaldi). The third standout plate came from the UK's own Cyrus Todiwala – 'Keralan-Syrian-Christian' Barbary duck tikka (matched with heady, slightly saline Syrah from India's Sula vineyards).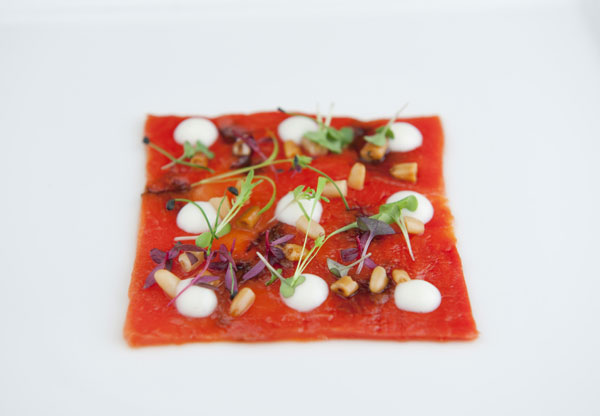 This being a full bodied evening even beyond food, Czech mezzo-soprano Edita Adlerová appeared in five different dresses to fill inter-course interludes. Amazingly, an audience member attempted to upstage her.
But, as we fast approached 2am, I alas forced myself to return to room to attempt three hours sleep in the vast bed before another limousine swept in to whisk me down surprisingly desolate multilane highways back to the world's largest airport terminal.
In-flight, en-route, back to Blighty, to sweaty palms from plastic palms, I glimpsed Tom Cruise clamber around Dubai's Burj Khalifa – the world's tallest building, Back in Blighty, soles still sandy, pounding grey pavement slabs, Dubai felt ever more like a set: a gigantified Kubla Khan-esque sand castle. I couldn't help but wonder whether it, or the pyramids, will be the first to crumble…
Sofitel Food Stars and Art occurs worldwide and will be coming to Sofitel St. James, London in early 2013. For more information, visit the website.