London has a plethora of restaurants that tick the boxes of charming, friendly and satiating at once. Ever so rarely, additional boxes such as outstanding, memorable and alluringly addictive are also ticked. Boisdale of Canary Wharf finds itself within that realm.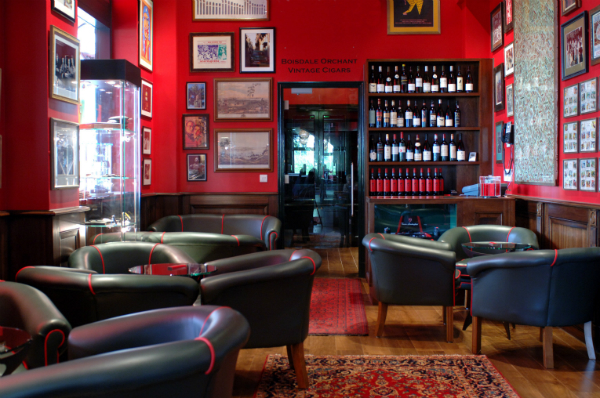 The restaurant is one of four in the company's portfolio, which includes two other London restaurants in Belgravia and Bishopsgate, and an upmarket, historic coaching inn and restaurant in Wiltshire called the Lamb at Hindon. All drip classical touches tinted with Scottish charms – think tartan carpets, dark wallpaper, heavy wooden banisters, cigar terraces and reams of exotic potted plants that make one think of a 19th century conservatory.
The financial district's location is the newest addition, opened in mid-2011. It is more modern, taking advantage of the Art Deco building it is housed in to create a 1920s jazz club feel throughout. Burnt red walls lined with photos of the jazz greats and eclectic paintings (including two Andy Warhol-style frames featuring Chairman Mao) give it sizzle, whilst a curving caviar and oyster bar on the bottom floor adds distinctive charm. A cigar library and towering whisky bar suggest a bygone era. One wants to wear her hair bobbed, twirl some pearls and utter how "marvellously darling" the whole place is, while jazz beats soak into the soul. Indeed, it is the jazz that many people visit for. Jools Holland is the patron of music and a medium sized stage at the back of the second floor dining room hosts top rate singers that dash some extra magic dust over every meal.
We arrive as the sun begins to wane and are shown to a spot right by the stage. Already, the tables by the elongated, convex windows that fill one entire wall of the restaurant are full of investment bankers negotiating lobster claws and oversized steaks. The drooping light fills in the gaps between sparkling skyscrapers that line Canary Wharf, spreading like melting butter over the post-work crowds that mingle at street level, as hectic but smiling waiters scurry amongst the diners. To our right, shelf upon shelf of whiskies loom large, tempting us to consider a quick dram before we tuck in. We opt, in the end, to finish on it but the shining bottles of golden elixir almost prove too alluring to resist.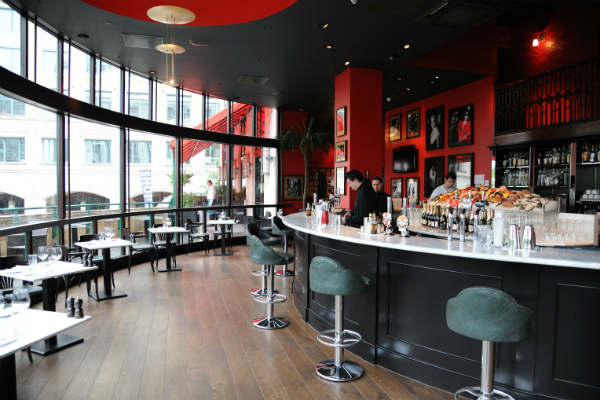 Our waiter, a slim, dark haired man with vivacious green eyes and a Spanish accent is well versed. Quail and cod are on offer that evening but both my guest and I opt for items from the extensive main list, which features dishes such as west coast Scottish langoustines, caviar and Aberdeenshire steak tartare. The showcase option is the steak, which Boisdale is perhaps best known for, food-wise. After much debate and a few return visits from the waiter, I finally choose ceviche of Isle of Mull scallops with Mallosol caviar and an 18oz rib of beef topped with foie gras and black truffles. My other half opts for Hebridean crab tian and smoked salmon, and a sirloin with the same indulgent toppings. As soon as the waiter departs, I find myself jittery with anticipation.
The stage is set for the night's performer – the stunning Juliet Kelly – and the room begins to buzz with the murmur of more patrons. A few sips of Rhone red from Perrin sees us through until our starters arrive. At one point, my partner says the only thing he'd like is for the lights to be slightly less bright – less than ten seconds later the room dims. It's as if the team at Boisdale are anticipating our every need.
My starter is beautifully presented – two scallops rest delicately in each of their own broad shells. The scallops are light on the tongue, but a tiny hint of spice and extra fishy flavour from the caviar provide a sense of exoticism. The crab tian is textured and creamy, while the smoked salmon offers hefty flavour without being overwhelming. Both are small, but just right for people with large steaks on the way.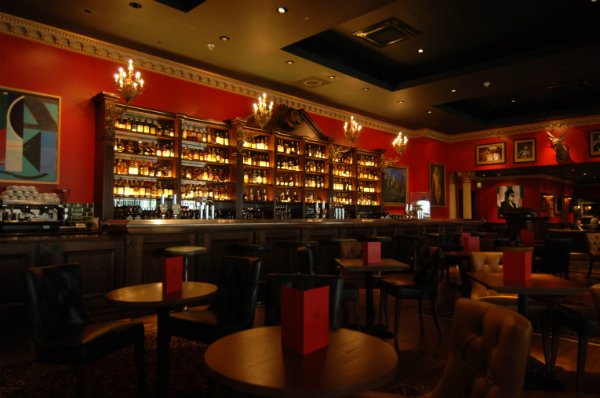 The sultry, dreadlocked jazz diva – Ms Kelly – takes to the stage as our mains arrive. My steak is so big it looks unmanageable, but I promise the cow I'll do my best. The addition of black truffles and foie gras is decadently irresistible. Both of our steaks have been tended to with care and the first slice proves the chef can cook steaks skilfully to the "rarer side of rare". I decide there and then that if I were a cow destined to be turned into steak, I'd like to be allocated to Boisdale – it is without fault.
After our plates are cleared away, we can't help but opt to share five cheeses from the wonderfully brimming trolley. Richard – the cheese specialist – runs through all twenty offerings giving us wee samples before we finally decide, while Hannah (Lanfear, the bar manager responsible for choosing much of the incredible whisky collection) delivers us a Jura 1999 and an Ardbeg 'Almost There' 1998 to pair with the final course. Both smoky whiskies match gloriously, and I allow tiny mixtures to dance in my mouth while the soul-satisfying jazz tunes beat in the background.
When finally we have to leave the restaurant – three and a half hours after arrival – it is with heavy heart. I want to relive my meal again. We wander out into the night which now glows with the might of towering shiny buildings and I sigh with deep, hearty satisfaction. Boisdale of Canary Wharf ticks every box I can think of – I can't wait to return.
Boisdale Canary Wharf, Cabot Place, Canary Wharf, London E14 4QT. Tel: 020 7715 5818. Website.