Outlaw's at The Capital sounds rather dramatic, like a Sam Pekinpah Western, or some high octane PS3 computer game. It is not; it is a very calm, well-mannered, perfectly turned out restaurant in Knightsbridge, a stone's throw from Harrods, in the heart of old-money-meets-oil-money lunacy.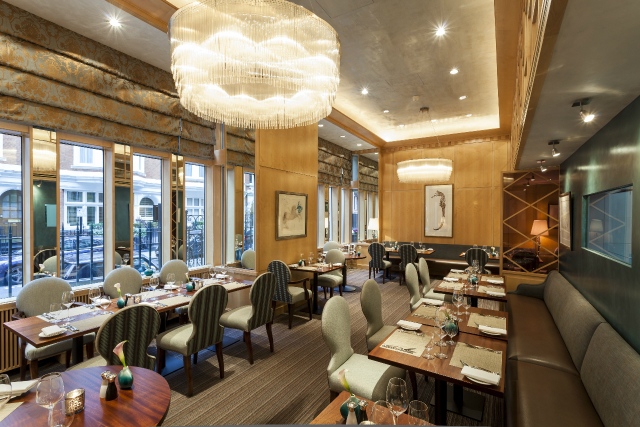 The Capital has an impressive history and rich tradition for fine dining. The hotel was opened by hotelier, David Levin, over forty years ago, and has long been known as an exemplar of immaculate taste, service and attention to detail.
Until recently, the most lauded chef to have run the kitchen here was Eric Chavot, a chef who held two Michelin stars for the restaurant, back in the early Noughties. When Chavot left and took his stars with him, Jerome Ponchelle, former head chef at the redoubtable St. James' stalwart Wilton's, took over the reigns. I ate at the restaurant in 2010 and was utterly charmed by the old-world glamour of the service and of Ponchelle's food. We were served by a venerable maître d', with thirty years service under his belt. He presented a very smart fish dinner which drew on various traditions, and he served it with consummate professionalism. Salmon Coulibiac and Dover Sole à la meunière were both brought to table and came with stories of their origins, of cold Moscow nights and of spice routes. I remember that the décor was particularly gauche back then, gilt-edged in a Euroluxe fashion, but that the food was extremely good, in a heart warming, old ways style – the Dover sole was the best I've ever tasted.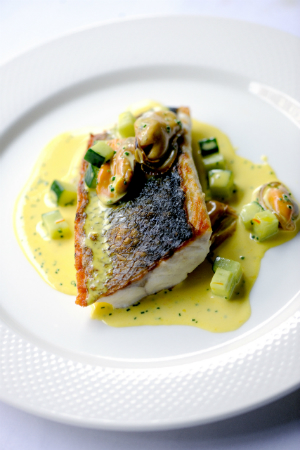 Today Ponchelle is long gone, and Nathan Outlaw has taken over the kitchen at The Capital. Outlaw is a burly gentleman, who's known to be something of a genius when it comes to tackling the fruits of the sea. He trained with Rick Stein, before going on to win two Michelin stars and a significant following at his Restaurant Nathan Outlaw in Rock, Cornwall. Outlaw's at The Capital is his first London restaurant. The room has been muted and improved significantly. Understated fishy prints line the walls and the gaudy elements of the past have moved on.
Where there was antiquated classicism in abundance last time I visited, today there is arch, modernity and elegance. If we were to make a comparison to art, Ponchelle's cooking might be an Old Master; Outlaw's, in this context, would be Modernist. The menu is short, focused and minimal in description. Not quite St. John terse, but it's clear that the days of complicated, allusive dishes are gone – no Salmon Coulibiac in sight.
I begin with a lobster risotto, which is diminutive, but magnificently intense in flavour. Outlaw has managed to draw the innermost essence of the crustacean and wrap it seamlessly around the rice. There is a subtle addition of orange and basil, which provides a freshness to balance the fat in the dish. The portion size is truly an issue though. For a dish that comes in at just under £20 and is mainly composed of rice, you might reasonably expect a little more substance. My guest enjoys a starter that follows a similar format, elegance and precision over gutsiness. Scallops come sliced, gossamer-thin and garnished with apple and beetroot. It is flawlessly arranged and delicious, but leaves one desirous of more substance.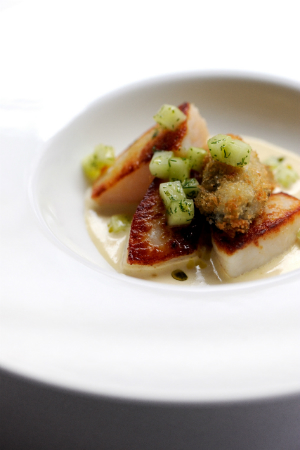 We dine on brill for our mains. Brill is one of the noblest of all fish; brill is First Lady to presidential turbot. Here the fish is left to display its formidable charms without much adornment. The presentation is bordering on Spartan. There is brill, there is kale, there is turnip, and there is a very simple seaweed butter. The fish is pristinely fresh, as you would expect, and pulls off a trick, which is particular to brill, of being powerfully meaty, yet graceful and light. I think the presentation of the dish is risky, yet entirely fitting. A fish of such quality should be allowed to shine, but I fear such formal spiritedness might be a little too much for some of the locals. I heard one distinguished-looking grey-haired gentleman commenting that turnips and brill was pushing it, and where was the sauce?
Pudding isn't generally the course I focus enough of my attentions on, but the pudding I ate at Outlaw's was probably the finest I've eaten all year. A high-concept ice cream of the smoothest consistency, with abundant honey running through and topped with crunchy, just-baked honeycomb which is just about my favourite thing in this world.
Outlaw's at The Capital is a great movement away from that which came before. The food is fresh, formally exciting and of excellent quality; the menu is a love song to the fruits of our native seas and Nathan Outlaw's vision proves that when you're working with the finest products, a lightness of touch can lead to great things. There were moments of brilliance and the memory of those moments will endure. I did find the portions to be a little on the diminutive side, I could have enjoyed the beautiful lobster risotto three times over, but perhaps this says more about my greed than the restaurant's parsimony.