When Sake No Hana first opened several years ago, I thought it was the headquarters of some murky Oriental secret society – it looked so mysterious from the outside. The external walls were almost entirely black and disconcertingly opaque – all you could see from the outside was layer upon layer of beautiful bamboo tubing. The tubes wrapped themselves around the inside of the building and gave the structure a heightened sense of otherness. In these early days of the restaurant's history, there was an air of austerity or perhaps unapproachability about it. To visit would mean losing one's shoes and sitting on the floor. Waitresses wore kimonos and food was extremely traditional and served with a pious sense of ceremony. After the traditional days came the cut-cost days. The management struggled to find patrons who were comfortable with the traditional ethos (and sky-high prices of the restaurant), so they started discounting, relying on either 50% off Toptable customers or the odd wallet-busting corporate expense account to keep them afloat. Like many other restaurants faced with sharp competition and testing economic circumstances, Sake No Hana lost its way.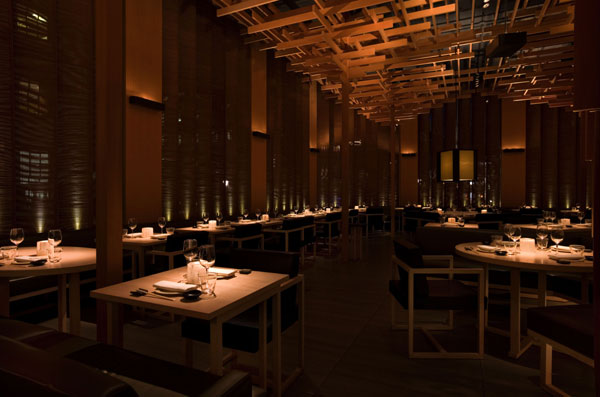 Fast forward to 2011 and we must thank those wise, ingenious characters at Hakkasan Group for picking the restaurant up off its tired, Toptable-tarnished feet and giving it a much needed re-vamp. The Hakkasan restaurants need no introduction. We all understand that these restaurants are the ultimate in sexy, modern Cantonese cuisine. From their two London locations and now multiple international sites they show other restaurants how to make Chinese food stimulating, contemporary and relevant. It seems to be the case that where Hakkasan treads, others follow, although with their acquisition of Sake No Hana they are branching out into previously unchartered waters by taking a classical Japanese set-up and making it their own.
I arrive at the restaurant and head straight to the refurbished bar – Ni Ju San. The bar is all clean lines and low lighting; drinks are poured slowly and with purpose. My guest arrives and we choose carefully from the leather-bound list. Cocktails are classic, but with idiosyncratic Eastern touches – my Negroni involves plum sake and 12 Year Old Hakushu whisky and my guest's Aperol spritz is enlivened with a dash of ginger juice. The cocktails are beautifully made and designed to lead into a gastronomic experience.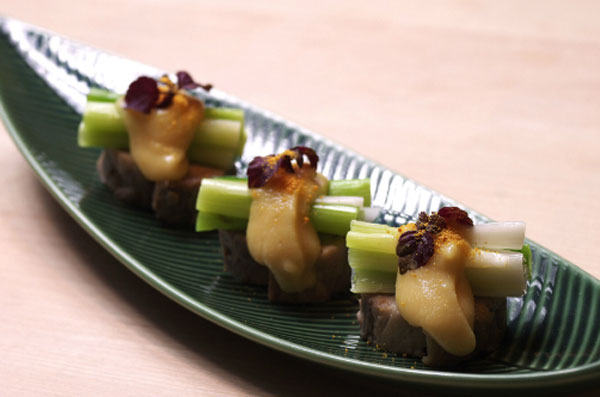 We move upstairs into the bamboo-lined dining room. It's a room of undeniable beauty, but there's more than that. The room feels like a refuge, it is calm, light-filled and fragrant. The menu has changed; there are touches of contemporary extravagance where before lay stolid tradition. It is an elegant, clean menu, Japanese in form, but not dogmatically so. There are ingredients and technique that would not seem out of place in the most traditional restaurant, but the menu presentation has been changed and dishes are arranged in approachable sections – cold small eats, fried, baked and charcoal grill etc. The wine list has upped its game too; Hakkasan Group have a superb wine buying team and their skills have been employed here to improve the layout of the wines so that they are set into clearly defined groups that can be easily navigated.
We sample a selection of dishes so wide and delicious this would have to become essay-like to do justice to all or even most of them. I will focus on the highlights, on dishes so good they stand up like shining peaks in the memory. From the 'cold, small plates' we enjoy two stand-out dishes. Seared fatty tuna is served with refreshing mooli and a wasabi dressing. The fish is glorious, with a silkiness of texture that leaves us fighting for the last pieces. Seabass comes ceviche-thin with a ponzu dressing – once again the quality is startling. It's a simple arrangement where the fish is left to perform alone and perform it does.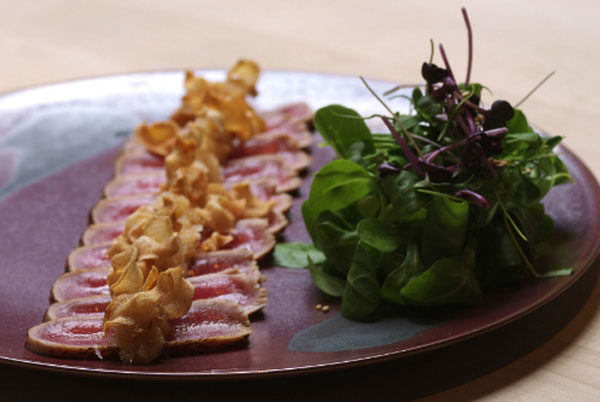 Quail is a dish that benefits a great deal from being spatchcocked and treated to a liberal portion of Asian spice, The ones we're served from the 'small hot eats' section are some of the best I've tasted and possibly the dish of the meal. These little birds can dry out if overcooked, but joyfully these come with the pink blush of medium rare. They're spicy, crunchy and lip-smackingly piquant – we drink New Zealand Pinot Noir and celebrate the sommelier's choice. Black cod starts us off on the 'baked and charcoal grill' section and is something of a revelation. This is a lighter rendering than one would usually expect; I think of various examples of this iconic dish that would seem sickly-sweet and cloying by comparison. Here the fish is served in smaller fillets, the flavour of the cod brought into focus by a gentle Mandarin Sauce that doesn't try to take over. Duck comes on a miso leaf with shaved truffle. This feels like a meeting of two distinct worlds, the high-toned Asian flavour of miso leaf being deflowered by the earthy musk of black truffle. Teriyaki glazed lamb cutlets are as well-cooked as the quail – pink and fatty, but doused in the sweet soy flavours and cooked hot to give a proper, charred crust.
At this point we're full, sated and happy, but then I remember our promise to taste the sushi. This is the way sushi is always served in Japan; at the end after the main action, to fill you up. They arrive with a platter and serve tempura crab, sea urchin, eel, seabass, toro – all those treasures that I love the most. We struggle on through with this mélange of flavours and textures. We linger, savour and eventually demolish the platter – a happy victory. This is quite simply a great way to eat: small plates that start cold and get hotter, a selection from the charcoal grill and rice to finish – extremely satisfying. Sake No Hana is back on form: balanced and precise, but with a luxurious tone that leaves you feeling rather special.