The Docklands area that surrounds Canary Wharf is an unknown land for most of us; a mystery for those of us who don't get to don a well-tailored suit and head off into its murky depths to worship at the slippery altar of high finance. I rarely have reason to wander around this strange, seemingly autonomous island state, but when I do, I have a very unusual emotional response. As soon as London's array of colourfully diverse characters and pleasingly shambolic streets give way to ordered greys and towering office blocks, I lose all sense of myself. Part of me is intrigued and somewhat enamoured by this culture vortex, by its structures and brusqueness. It seems masculine and serious and irrefutably grown up. The other part of me recoils in horror at the lack of feeling, the glum, here-for-business faces and the transitory sense that nobody wants to be here for long, that everyone just wants to get home; get out of here, unscathed.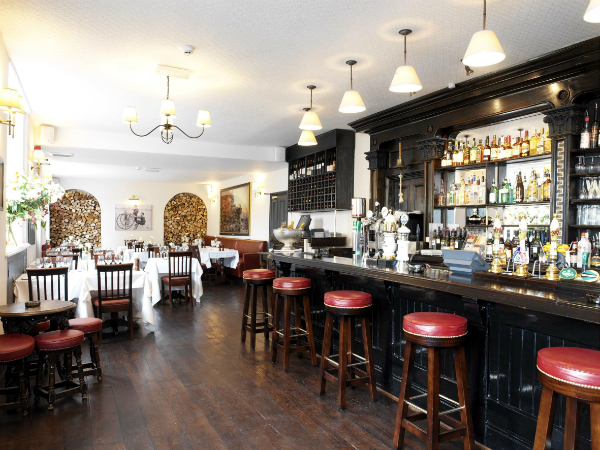 The Gun is a gastropub of high repute that finds itself tucked away down a little terraced row, almost hidden in the dark shadows amid the shining monoliths of Mammon. The pub opened in 2004 and forms part of Tom and Ed Martin's successful empire of high-end, carefully conceived gastropubs. Of all the Martin's merry offerings, The Gun is known best for the quality of food on offer, it is said to be a place of substance over style.
The night we visit, the pub is packed with a broad collection of jowly characters: vulpine bankers and their molls, out of towners, retirement-age parents with smug, finance-y offspring and, for sake of theatre, about a hundred teenagers out the back: pink, glitzy and oppressively perfumed for a mate's eighteenth birthday.
The dining room leads off from the pub area and is rather smart, even for a Martin gastropub – thick linen, smart glassware and shining silver. The walls are lined with pictures of vaguely nautical scenes that hark back to earlier incarnations of The Gun. Our waitress is lovely, if ever-so-slightly overfamiliar, every recommendation comes with a strange lingering conspiratorial giggle that suggests she knows something ominous that we don't.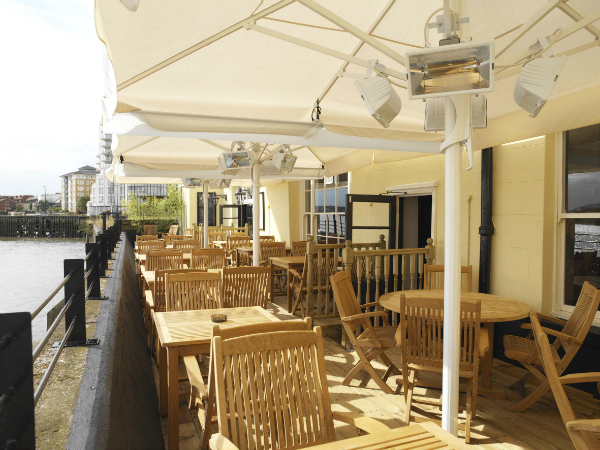 Our first courses are both startlingly good dishes. Sarah chooses devilled chicken livers on toast while I opt for a special, and the dish which seems to come with the most specific narrative. 'Cured slices of wild boar shot by the Martin brothers on an estate in the Czech Republic'. The livers are superb, clearly taken from chickens who lived the life of the gourmand – huge, richly creamy and precisely cooked. They're closer to slabs of roast foie gras than any straight-up liver I've tasted. The boar comes in thick slices, with a rugged flavour and plentiful fat. This seems representative of just about anything I've eaten in Czech Republic, and in this sense, is comforting and correct, taking me back to extravagantly portioned knuckles of pork and strong Bohemian ales in smoky Prague bars of years gone-by.
Pan-fried fillet of bream with Dorset crab mash, fennel and Pernod cream is more straight forward and reticent. After the character-laden starters I'm hoping for more drama, but there's little to be found. Disappointingly, neither the fennel, nor Pernod packs the required anise punch and the mash isn't particularly crabby. The fish is, as you might expect from a restaurant a mere stone's throw from Billingsgate market, very fresh and perfectly cooked, but overall this is a dish that aims not to offend and in doing so risks coming across as a little dull. Sarah's pork belly has been cooked for twelve hours and is as meltingly delicious as pork belly can be. This is a dish that's so ubiquitous and over-exposed these days that I generally avoid it, but it's good to taste a rendition that reminds of you of why this cut, layered with giving, sensual fat is loved the world over.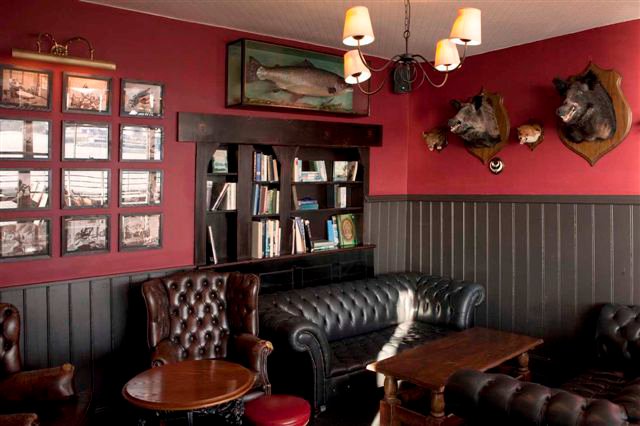 For pudding there is a well-made Valrhona mousse cake, which we happily share – there's little room for sweets after the solid meal we've enjoyed.  The chocolate cake is good, but it's the ginger sorbet that I clearly remember – clarity being an apt descriptor.
The Gun is a worthwhile detour for food lovers venturing down to the Docklands area. There have been developments in the scope of gastronomic experiences available in this part of London, with the likes of Boisdale and Roka, but at The Gun, you get a good balance of carefully conceived dishes and the warmth and conviviality of a proper pub. There were moments of real brilliance such as the devilled livers, a dish which alone would drag me back down here.