Recently I wrote at length about the frantic food lovers of Bermondsey Street; the Pizarro/ Zucca /Antico triumvirate I think I called it. I focused on this little enclave and perhaps alluded to the idea that this was the only area to eat well in Southwark. Apologies – after a visit to The Table Cafe, I realise that the tentacles are spreading wider!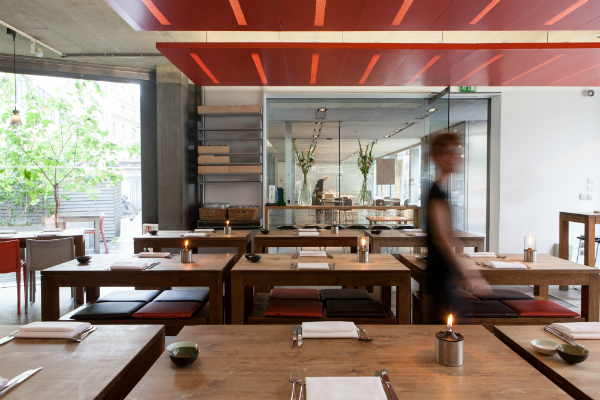 The Table Cafe sits toward the far end of Southwark Street, past the Tate Modern, in an area that seems sparsely furnished with decent eateries, but with unquestionable potential. The offices of several media agencies including IPC sit a mere stone's throw away, and from what I could observe on my approach to the restaurant, this only seems set to grow and evolve. The restaurant is a joint venture of sorts from restaurateur Shaun Alpine-Crabtree and architectural practice Allies & Morrison.
As soon as you step through the doors, it's obvious that there is an architect or two hanging in the wings. The restaurant is light and airy, with a clean, simple aesthetic and industrial edge. Tables are bare and utilitarian, wooden and designed so that they can be shared. There's a touch of the Wagamamas in the shared tables and pared back simplicity of the room; nothing seems superfluous. If you were being very harsh, you might say the place lacked in character – I think I'll be kinder though, I'll call it calm. It allows all your focus to rest upon the two little grey sheets of paper in front of you: 1. A daily changing menu 2. A recently re-vamped wine list – both deserve calm assessment; both are excellent in range, composition and execution.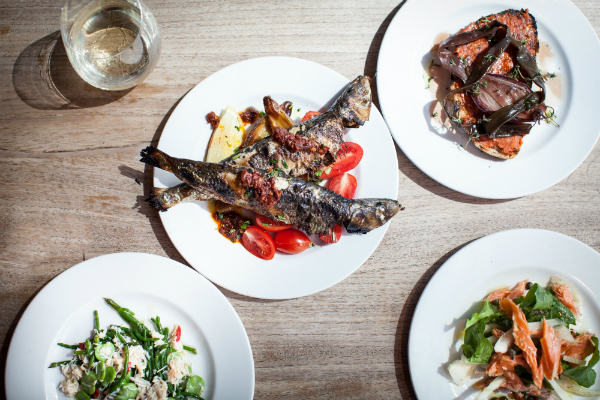 The menu is short and to the point, and as with most menus in stylish restaurants these days the intention is to describe dishes in the clear terms of their constituent parts, rather than including any detail or fluff. The tone is simple, modern European, but with a notable Italian leaning. Small plates precede large plates, rather than starters and mains, as you might expect. We are hungry and inquisitive and the small plates sound superb, so we order a selection. Our intention is, I think, to forego mains in favour of a range of flavours, but as ever, we don't know when to stop. Octopus is served in a simple dressing of oil and lemon juice; it's extremely appealing, although unremarkable. What is remarkable and remains vivid in the memory as I write is a delicious plate of giant couscous and crab meat. A bizarre combination on paper, but glorious in the eating. Beetroot comes from the garden of the local homeless charity, St. Mungo's (purchased rather than purloined may I add) and when cooked slowly and served with creamy goat's cheese, is fresh, humble yet luxurious all at once.
Mains end up being meaty, although that was not the way it had to go; there was a whole plaice option which interested me. Instead, I'm drawn to the porchetta with smashed cannellini beans. The alluring combination of sweet, fragrant pork fat and earthy, well-seasoned beans is extremely pleasing. My dining companion's rose veal arrives perfectly cooked and enjoys piquant anchovy butter as accompaniment.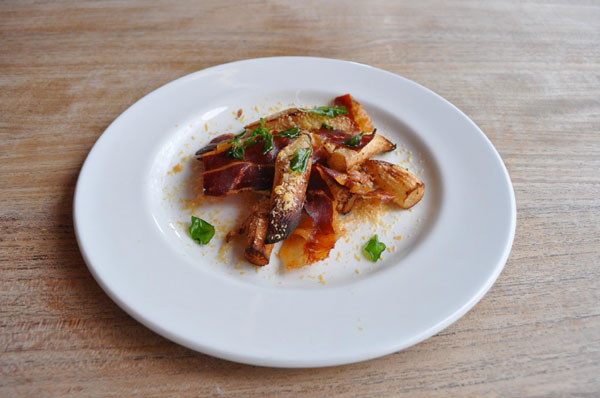 The wine list is a joy. The management recently brought in specialist Matt Walls as a consultant to rejuvenate their vinous offering and I would say they certainly got their money's worth. Be unmistaken, this is not a lengthy, 'connoisseurs' list of grand cru Burgundy and classed-growth claret. The list is relatively short and the wines are simple and well-priced; this is a list for a wine lover though. There is excellent range within the six pages on offer. We enjoy excellent, light, dry Austrian Riesling with our small plates and then move onto heavier reds with the meat. I choose Granche/Syrah mix from the Roussillon and Lucy has Crozes-Hermitage with her veal. The reds are both spicy and warm hearted; the Mas Cristine mix is particularly good, with interesting herbal garrigue notes, leather and spice – at £5.10 a glass it's a real bargain. I finish with a startlingly good chocolate tart which is gloriously rich and sweet, but bitter and noble too, a difficult balance to achieve.
The above tart alone would make a visit to The Table Cafe worthwhile; when you consider all the other elements that come into play here, I'd suggest you'd be imprudent not to give it a try.