On Sunday night I dined at The Ivy. As one might expect, there were a few faces to be seen. At a table to my left, Jim Carter, Downton's Carson. And, coincidentally, Lord Fellowes was at a table behind his. Across the room Imelda Staunton was opening a bottle of wine. Above the hum of the restaurant, I could hear Robert Lindsay's commanding voice, punctuated occasionally by a trill from Maureen Lipman. It was heaving, in the cosy confines of London's most iconic restaurant bodies bustled, the air thick with the weight of a long night and multiple covers.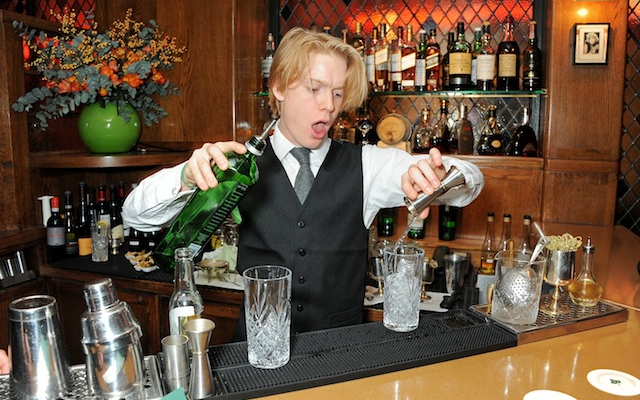 But something wasn't quite right. Carson didn't have a seat, but was performing magic tricks for the diners he was engaging. Lindsay and Lipman were barking at the room, as if conducting a conversation with tables at all four corners. I could have sworn I saw Phyllida Law in a pair of Marigolds emerge from the kitchen and Lord Fellowes looked like he was taking an order. He turned, I noticed an apron on him, and as he strode past I heard him utter to the maitre d', "Two machiattos for table four".
At the bar, Freddie Fox poured me an Old Fashioned. And Laura Carmichael, Lady Edith from Downton Abbey, joined my table, almost unrecognisable without her crimped '20s hairdo, until, somewhat self-consciously, she leapt to her feet and cleared our plates away.
But this wasn't a dream.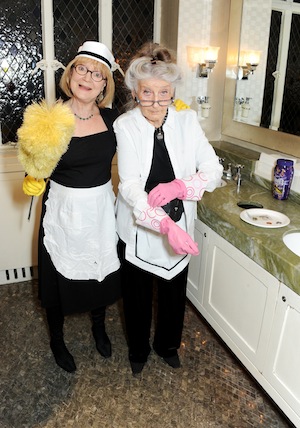 Actors waiting tables is nothing new, 95% of actors wait tables. Come to think of it, 95% of waiters are actors. Only you don't expect to see A-listers carrying dishes or crumbing down, having broken ranks and grasped success in their thespian careers. I can't imagine Lord Fellowes needs to supplement his income or Imelda Staunton indulges in restaurant hospitality out of love. But I can imagine there is a solidarity among actors, particularly those who may have been former waiters or, given their profession, perhaps even it's akin to trying something as if playing the part. Indeed, it transpires that many of The Ivy's regulars have often remarked to Fernando, the restaurant's director, that they would like to have a go at working there, if only for one night. And it was with this in mind, over a conversation and coffee with Samantha Bond – another Ivy (and Downton) regular – that 'One Night Only' was conceived.
It is, of course, for charity. It took Bond's characteristic gumption and a bulging filofax and, last year, the first 'One Night Only' was launched, the restaurant turning the tables on its gastronomic gliterati and allowing its patrons to enjoy the pleasure of Britain's finest board-treaders pouring their Chateau La Grave and slicing their chateaubriand.
The charity in question was also much of the incentive for taking part; Acting For Others represents fifteen charities from the theatrical profession that benefit those who may need financial and emotional assistance, whether through illness, in retirement or, as one might expect, when times get hard. It's an organisation Bond is closely involved with. Little surprise that she managed to corral most of the cast of Downton to the cause.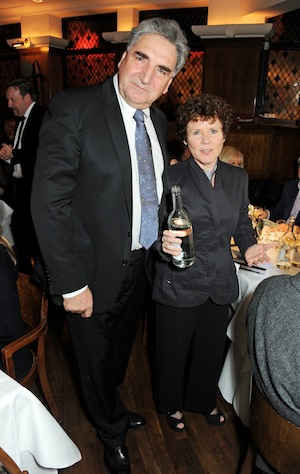 And their benevolence has gone beyond merely taking a couple of orders and cleaning a few glasses; customary with The Ivy's reputation as theatreland's finest, many of the 'staff' from evening contributed their services and pulled a few strings to offer auction prizes as a further money-raiser. That wasn't Robert Lindsay's theatrical proclivities getting carried away on the night, he was indeed calling out lots. An evening with Brendan Coyle, including tickets to his new production, Mojo, and drinks afterwards; the Henry V Experience offered dinner with Derek Jacobi at J Sheekey and tickets to the forthcoming Jude Law production, to name but two. And, of course, there was a 'Downton Experience', featuring afternoon tea at the Savoy with Jim Carter and Phyllis Logan. These being actors, several improvised lots also went under the hammer; Maureen Lipman even offered a masterclass in chicken soup in her kitchen.
As you might imagine the evening went by in a whirlwind, almost dreamlike. It seemed the cast were enjoying it as much as the patrons; these being actors, many were taking to improvising. Janie Dee broke into song with the pianist in the Piano Bar upstairs, Owen Teale took to playing his waiting 'role' in French at one point and Lindsay and Lipman provided much mirth amid the din of the dining room as they commanded the auction. We diners, too, seemed to get carried away; "You're bidding against yourself, Madam," Lindsay called out to an overzealous auction bidder.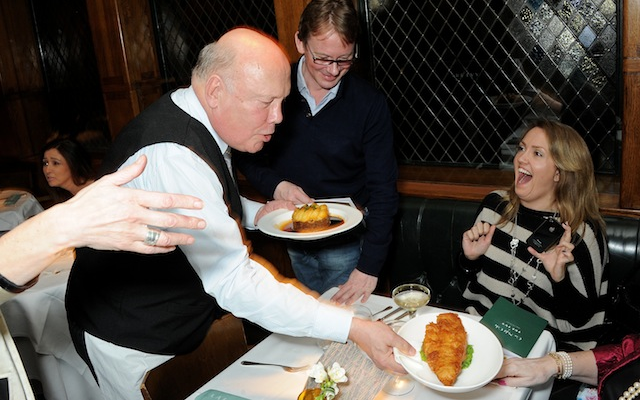 As the gavel went down on the last lot – a sailing experience on the Adriatic – a voice behind me asked, "What did that go for?" "Six and a half thousand," I replied. "Oh, good," he said, but as I turned to address him, he had shuffled off, a stack of dirty plates in his hand. It was Lord Fellowes.
One Night Only at The Ivy took place on Sunday 1st December 2013. It raised £56,587 for Acting For Others, doubling last year's total.
For more information about the charities involved with Acting For Others, visit the website.
For more information about The Ivy, including menus and membership to The Ivy Club, visit the website.
[cgview id=116 num=8 size=150×150 showtitle=always lightbox=0 excludeposts=33352]