If I concentrate, I can see it all in my mind's eye. It's the early eighties – 1982 perhaps – that apocryphal year for the finest Clarets. I'd say it's November and wintry, cold and grey outside. I imagine there's a palpable sense of foreboding in the air, with little to bring cheer to the streets of London. It's been a difficult year; London is in the tight grip of a recession. A bitter wind whips itself around the empty streets of Mayfair and heads off into the night.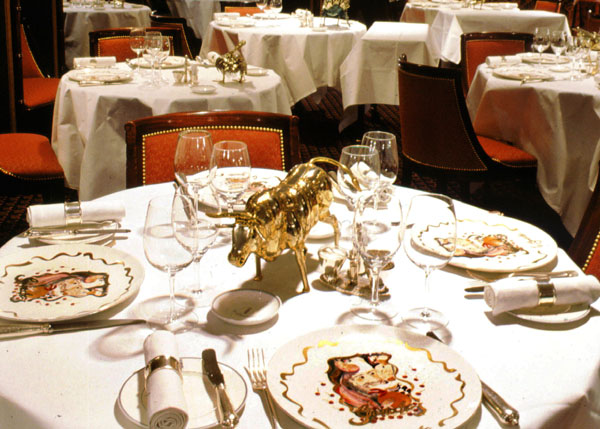 If you were there in 1982, traversing those cold streets, wandering down Upper Brook Street, you might have stopped at number 43. A doorman might have ushered you in (if you looked right, that is) and there, in one glittering moment, the light would have changed and you'd feel alive again.
Le Gavroche! This is 1982 remember; one year on from the restaurant's big move from Lower Sloane Street.The new Gavroche is cavernous and discreet, you step inside and the real world slips away. This is years before cooking got 'sexy'; years before Marco and Gordon and all those gurning idiots on Masterchef. If you ask me, it was here, in this little basement off Marble Arch, where cooking really got sexy. This is where lucky, wealthy members of the British populous got to taste real flavours. Rich and complex flavours unlike anything that had come before: poulet de Bresse; rich, buttery sauces; truffles and ripe, stinking cheeses.
Imagine descending those stairs into the basement, into the thick of it. Imagine the noise: the clatter, the chatter, the booming laughter and stolen whispers. Imagine the smells in that room. There would be smoking for a start and there'd be a beauty to it, a shimmering, all-but-lost sense of nicotine-drenched charm. And not the ubiquitous Marlboro Light: Dunhills and Rothmans, and Cohibas for the high rollers. The women would smell like women – there'd be Chanel No. 5 for sure. At regular intervals the food aromas would waft through and what scents they would have been.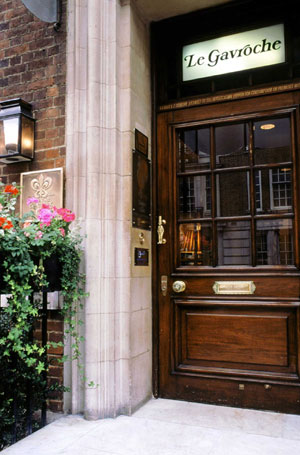 They'd be so far removed from the lumpy, stuffy, grey-brown meat smells of the English hotel restaurants, or the musty torpor of the gentleman's clubs of St. James'. Here there would be bubbling, butter-drenched Dover soles, foie gras roti and the savoury charms of the soufflé suissesse – it would have been intoxicating.
This vision is an imagined one from the 1980s, but the wonderful thing about this restaurant is apart from the swanky cigarette smoke, nothing has really changed. The man running the kitchen is now, of course, Michel Roux Jr. rather than his father Albert. People say that with this handover in 1991, there has been a general 'lightening' of dishes (not much is light in the context of any other restaurant I can think of), but in general the vibe is 1982 and proud.
On the day of our visit we are treated to the pleasure of being served by the inimitable Silvano Girardin, ex-general manager of the restaurant, who is filling in for someone who's been struck down by illness. Giraldin ran the restaurant from 1975 through to 2008 and is thought of as one of the finest restaurant managers this country has ever seen. He's still a director of the company and you get the sense that in reality, this is still his dining room; his presence is everywhere. His touch is light, but assured – with the merest nod to a waiter an amuse bouche and a glass of champagne arrives at our table.
The beauty of a meal at Le Gavroche is the balance between intricacy and robust French classicism. There is real specificity here. Dishes are not identikit haute French, they are very clearly aligned to these walls – walls that could tell a thousand stories. Highlights from a stunning lunch include a gratin of langoustines and Hereford snails, which sees these delicacies bathed in a light Hollandaise with parsley and cayenne pepper. This is a dish that could be said to exemplify the confidence on show here. It's an almost-perfect plate of food, but simple in composition and unremarkable to the eye; the beauty is in its completeness. A single, perfectly cooked scallop comes with pumpkin and wild mushroom in a velouté sauce that manages to be hedonistically rich with dairy fat, but without any cloying weightiness.
Milk-fed, roast suckling pig for two could only be described as a treat. The rack of pork is brought to table on a tray. Knives are sharpened theatrically. Then he carves. This is a sense of drama that seems all-but-lost in London's dining rooms. Very few restaurants carve at the table, but when they do, I find it adds such majesty to a meal.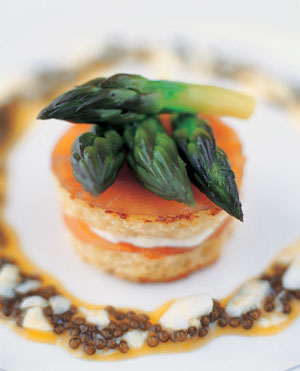 A piece of meat, or whole fish, dealt with speedily and skilfully at the table can elevate a meal from the quotidian toward something far more exciting and memorable. The pork is soft and sweet and comes served with the best crackling I have ever tasted in my life. There is a light jus of white wine and grapes to moisten the meat; once again, there is a completeness and subtlety that few restaurants of this calibre would dare to display. You could call the dish simple, not a million miles from a precisely-arranged pork roast, but the distinction is in the detail and the detail is in everything.
We enjoy a glass of the second wine of Château Phelan Segur 2007. The wine has been decanted as all reds seem to be at Le Gavroche. The claret comes from a relatively light, elegant young vintage and it serves us extremely well as a 'luncheon wine'. The cheese trolley at Le Gavroche must be the blueprint for all French restaurants in this country. Thankfully we now have superb fromageries in London, but in the early days of the restaurant there would be covert missions to Paris to re-charge the groaning trolley with fragrant regional wonders from the furthest corners of France. I would say it's still the best cheese trolley in London, probably England. We share some aged, nutty Comté and some excellent L'Ami de Chambertin, the finest of the Burgundian cheeses. It makes for heavenly eating.
Pudding arrives along with a waiter carrying a bottle of Calvados. He smiles and pours the glowing liquid all over the caramelised apple pieces and lets it soak into the dark mille-feuille that encases a frozen slice of Caramel parfait. This is the kind of pudding I was born to eat. I can taste each element of the dish as write; this is surely the mark of food that matters. We're done now: finished, replete and soothed. Soothed by a sense that however rapidly life changes and people or places move on, constantly redefining themselves, some things endure. Just at that moment Silvano swoops by and leaves two generously proportioned Armagnac's on the table – 1967- the year everything began.
Le Gavroche, 43 Upper Brook Street, London W1K 7QR. Tel: 020 7408 0881. Website.
[cgview id=116 num=8 size=150×150 showtitle=always lightbox=0]