Our Cigar Editor, Nick Hammond, wins the Spectator Cigar Writer of the Year Award 2013. He takes a look back at the eventful night…
What a singular honour – to be named Spectator Cigar Writer of the Year at this week's bash at Boisdale Canary Wharf. And what a bash it was – 'sleb' spotting at its height with the marionette-like Nancy Dellolio teetering around, Duran Duran frontman Simon le Bon grinning wolfishly and former Starsky and Hutch star David Soul enjoying the hospitality enormously.
After a humongous C.Gars Ltd auction and a truly fine meal with libations, the crowd were a little, ahem shall we say, happy. So by the time it came to the end of dinner awards, Spectator Chairman Andrew Neil had to bellow to be heard above the hubbub.
I was delighted to see Edward Sahakian on hand to pick up the award for Best Retailer Award for Davidoff of London, he's such a gent. Hunters & Frankau won Best Supplier, The Wellesley and The Lanesborough both picked for Terrace of the Year. I won Cigar Writer of the Year and finally, Monsieur le Bon stepped up to receive a fancy Jean Richard watch and a humidor of smokes for winning Cigar Smoker of the Year.
It's not easy being a cigar writer. Many publications will happily write about Scotch but shy away when cigars are mentioned, unwilling to upset the sensitivities of their readers. That's why The Arb is legendary – it's been boldly going where no-one has gone before for many years now, defying political correctness and giving the discerning reader what he or she wants. This cigar column is still the only regular column dedicated to fine cigars published in the UK today. I think that's sad and pretty pathetic to be honest.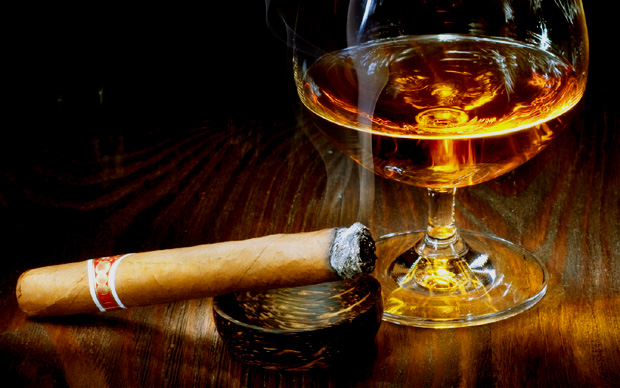 Cigars mean an awful lot to me. They have given me solace in hard times and punctuated the great moments in my life. They offer peace and reflection in a busy world, have taken me around the world, introduced me to many friends and some amazing people. They've also opened a lot of doors which would otherwise have no doubt remained closed.
Kudos must go to The Spectator for joining the Arb and sticking its head above the parapet by putting its name to these awards. Let's hope others are man enough to do the same and acknowledge that there are more than a few lawful, decent people who enjoy a fine, handrolled cigar and who not wish to be admonished, punished, ridiculed or legislated against because of it.
Long ashes.